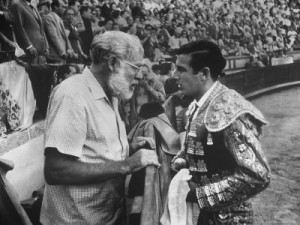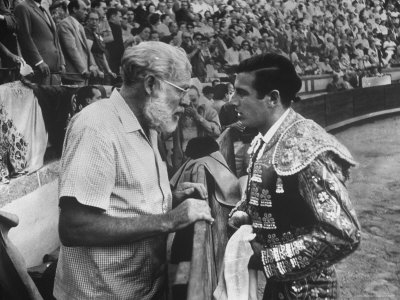 by Amanda Festa
There is no shortage of unique options when it comes to choosing travel accommodations.  There are hotels submerged completely underwater and, if you would rather not get wet, there are hotels that float.   For those not watching their blood pressure, there is now a hotel made primarily of salt.  Yes, salt.   So what is next?  For the literary traveler, the answer is clear.  Up until now, in order to fully immerse yourself in a destination once frequented by your favorite author, you could tour their homes, visit museums of their memorabilia and enjoy a beer at their favorite bar.  Very soon Ernest Hemingway aficionados will have another option.  Hemingway, Ltd, a corporation owned by the author's estate, in conjunction with Hemingway Hotels & Resorts, will be opening a series of luxury hotels that exude "The Hemingway Lifestyle," described on the website as "seeking the essence and fullness of each of life's experiences, about which [Hemingway] would then write so beautifully."
Thus far Hemingway, Ltd has built a successful brand around the author's legacy.  The Ernest Hemingway Collection includes lines of retro eyewear and home goods.  The brand's furniture collection, designed for Thomasville, has been around for over a decade and is inspired by the places Hemingway worked and played.  It includes old fashioned writing desks, animal horn inspired end tables and sofas named for his wives, Hadley and Pauline, upon which you can recline after a long day of deep sea fishing.  The collection also features a line of domestic accessories including accent pillows and throw blankets, although it is unknown how Hemingway would feel about his name on a line of fancy decorative pillows.
Hemingway, Ltd initially extended its brand into the hospitality industry with Hemingway's Island Grill restaurants, with two locations in Florida opening in 2004 and 2008.  In 2010, Hemingway's Lounge opened in Hollywood, boasting floor to ceiling bookcases and a wall of antique typewriters, as well as drinks inspired by the author's work.  While "The Garden of Eden" sounds like my kind of cocktail, "Death in the Afternoon" is something I might leave to the more adventurous drinker. Now, with Hemingway Hotels, the brand hopes to build upon its prior successes and aim even higher.  A culmination of the ideas at work in previous products, the hotels will be a sensory bombardment of all things Hemingway.  Combining location, décor, entertainment and of course, food and drink, the ties to the author will be multidimensional.
According to the website, the criteria that must be met in order to bear the legendary name are extensive.  First and most important, the property must be located in a destination with ties to Papa Hemingway.  This makes Paris, Spain, Key West, Havana and Michigan prime targets for the brand.  In addition, the architecture of the hotel must exude both the attributes of the location, as well as the particular places that influenced Hemingway.  Essential aspects of each hotel will be restaurants that serve the authentic cultural cuisine of the area and bars that remain true to the author's love of libations.  Unique entertainment options will further distinguish Hemingway Hotels from the proverbial pack.  Activities available to guests will draw on the author's multifaceted nature and range from adventurous outdoor experiences to intellectual pursuits such as book events and historical tours.  And obviously, it goes without saying that the guestrooms should meet four star standards.
While it is still unclear where the first Hemingway Hotel will pop up, President of Hemingway Hotels & Resorts, B. Tuckey Devlin, has stated that the plan is to open two hotels a year, with a minimum of thirty hotels worldwide.  When it comes to finding the first location, Michigan was quick to throw its hat in the ring.  Hemingway, a frequent summer visitor to the state, cultivated his love of hunting and fishing as a boy on WalloonLake, near Petoskey, MI.  With many ties to the state in his personal life, as well as his writing, including The Nick Adams Stories and "Up in Michigan," bibliophile oddsmakers may reserve this as a favorite, although Key West and Pamplona could give Michigan a run for its money.
After all, Hemingway himself was at heart a literary traveler, spending time and finding inspiration in a wide variety of places that fueled his diverse passions.  Of Paris, Hemingway wrote in his memoirs that "wherever you go for the rest of your life, it stays with you."  Hemingway Hotels seeks to share that sentiment with contemporary travelers, making the literary legend himself "a moveable feast."
Would you stay at a Hemingway Hotel?  What would Papa think about the branding of his livelihood?  Where should the first Hemingway Hotel be and what are some of the necessities that would authenticate the experience?  Tweet us @literarytravelr and tell us what you think.  #hemingwayhotel