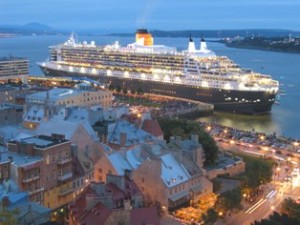 By Jennifer Ciotta
Bill Bryson, Joanne Harris.  Would you ever expect to meet two world famous writers on a cruise of all places?  I had the pleasure of meeting, interviewing and listening to lectures by both of them.  I had the ultimate literary (and luxury) experience aboard the Queen Mary 2 on an October transatlantic voyage.
My journey began in Southampton, England, on a dreary day, a "washout" as the Brits like to say.  The dreariness, however, came to a screeching halt when I beheld the Queen Mary 2.  I finally understood what a luxury ocean liner was—a majestic semblance to the Titanic, alike in color scheme and immensity.  Once on board the ship, the grand lobby greeted guests with its sweeping staircase of red velvet and decorative glass.  In my stateroom, a silver tray of caviar and sushi appetizers awaited me.  Champagne too.  I popped the cork and poured the glistening champagne into a flute.  I sipped on the sweet taste of opulence.
But I was not alone on my first cruise.  I had a fun and charismatic traveling companion named Francis McGovern, the publisher of Literary Traveler, or in other words, my boss.  Francis had arranged for us to interview both Bill Bryson, world-renown traveler writer of A Walk in the Woods, and Joanne Harris, author of Chocolat, the international bestseller-turned-blockbuster starring Johnny Depp, Juliette Binoche and Judi Dench.
I awoke the day of Bill Bryson's lecture to breakfast brought to my door by Joseph, my deck section's courteous steward.  Breakfast-in-bed is a free service on the Queen Mary 2, so of course I took advantage of it.  I dined on silky scrambled eggs, crispy bacon and two cups of rich hot chocolate.  I countered all the delicious food with vigorous exercise of walking the ship and pre-dinner swims.
Off to the lecture I went.  Bill Bryson did not disappoint.  He is larger than life, acquiring both the personalities of a sarcastic American and charming Englishman.  He began his talk by saying he was going to show the audience slides of his travels.  In true Bryson humor, he showed us photos of recreational playground slides from different parts of the world.  The audience roared, setting the tone for an hour of wit and intelligence.  Bryson discussed his humble beginnings as a kid growing up in Des Moines, Iowa, to meeting his English wife.  He read from African Diary, one of my favorite travel books about the terror of landing in a storm in a single-engine plane.  And, yes, he still talks to Stephen Katz, his A Walk in the Woods traveling companion.  Bryson informs Katz when an audience member asks about him, and kindly says it's a beautiful woman who does the asking.
The next day on the ship was the Joanne Harris lecture, but before we attended we went to the afternoon tea dance.  We sat with our new British friends over buttery scones, cucumber sandwiches and pots of freshly brewed tea.  I officially felt British, stopping midday for tea and treats.  Alas, I did not dance because I'm not a formal dancer, but I watched as couples glided effortlessly on the dance floor.  Perhaps the most interesting of all was the single ladies.  The Queen Mary 2 provides male dance hosts for single women, so everyone can participate in the dancing.
In her lecture, Joanne Harris proved to be charming and sweet.  She discussed her background of teaching and how that opened her mind to writing.  Harris said, "I write because I can't really not write."  For all of us writers, we understand exactly how she feels.  When she went into depth about the movie adaption of Chocolat, you could hear a pin drop in the auditorium.  Much to everyone's shock, Harris said the movie studio originally wanted to move Chocolat out of France and into the American Deep South.  The film was to star Whoopi Goldberg.  Harris admitted she, as an author, did not have a lot of say in the film.  Yet in the end, the studio made the right adaption of Chocolat, as we know it today.  Harris also noted that actress Juliette Binoche studied the lead role of Vianne intensely, even meeting with Harris to fully understand the character.
After seeing these two lectures, Francis and I were excited to interview both authors, but we had a lot of time before the interviews because they were set for the second to last day of the crossing.  So, we filled our days shooting video of a private kitchen tour, dance lessons, opulent dinners, spending the evenings with our new British friends, engaging in some drinking and nightclub dancing.  We visited the largest library at sea, in which stacks of books are arranged on polished wooden shelves.  Most importantly, we prepped for our interviews.  I was to interview Joanne Harris.  Francis was to interview Bill Bryson.
On interview day, Francis set up the video cameras and I prepped my questions.  I popped my head out to find Harris sitting quietly in the lounge.  I invited her in as she told me she was busy that morning helping her daughter with a school essay.  She wore a smile on her face which radiated of warmth and kindness.  Harris freely answered my questions, talking about food, chocolate and her experience on the Queen Mary 2.  She gave aspiring writers advice about agents and how to handle rejection, and told the story of her illustrious rejection sculpture.  I found Harris pleasant, thoughtful and passionate about literature and travel.  (Please see the video and transcript of my interview with Joanne Harris.)
Francis was up next.  He left manning the cameras to me.  Bill Bryson came into the room.  He is very tall, towering over both Francis and me.  As he spoke, I could hear both his American and English accents, a tribute to both countries.  Francis, an interviewing pro, asked Bryson how he felt on the Queen Mary 2, a literal symbol of both American and British cultures.  Bryson agreed whole-heartedly with Francis' observation, but what really got him going was talking about his true love: baseball.  While they talked about the American pastime, a childlike excitement radiated from Bryson's face.  They also discussed Bryson's quest to convince his publishers to publish a book about traveling in Canada. He hasn"t yet won the battle.  (Please see the video and transcript of Francis' iinterview with Bill Bryson.)
The interviews were over and it was time to celebrate our wonderful trip and the last night of the cruise.  We treated ourselves to Todd English, the upscale restaurant on deck eight.  We feasted on lobster, steak and decadent desserts such as a rich chocolate truffle.
Our literary cruise came to an end.  A bittersweet end.  I still miss the literature, the travel, our British friends and all of the extravagant meals, afternoon swims and late night dancing.  The Queen Mary 2 was a once-in-a-lifetime opportunity, but somehow, I hope to do it all again.