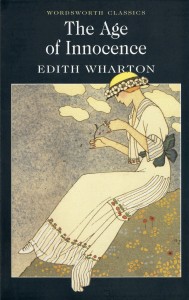 By Caitlin O'Hara
Think of favorite endings of books that really resonate: Levin and his revelation towards goodness at the end of Anna Karenina.  Molly Bloom's return to girlish passion for her husband in Ulysses — "yes, I said, yes I will, yes." Newland Archer's resignation and acceptance in The Age of Innocence, surprising himself in old age.  Gatsby's pointless, preventable demise. All of these endings raise elemental human questions; they are not sweeping, plot-driven conclusions.  In our too-mortal lives, goodness, love, regret, and uncertainty can often never be fully realized or understood, but they are, on occasion, ruminated upon by those lucky few authors who have been able to bring us slightly closer to our own truth.  And when they do that, we continue to look back to them, to find ourselves.
Often writers are looking back, too. Edith Wharton did in 1925 with The Age of Innocence, set fifty years prior in the 1870's of Old New York.  That same year, F. Scott Fitzgerald published his modern novel, The Great Gatsby.  Today, artists are eager to revisit and remake these stories—finding something in them still that speaks to our own contemporary sensibilities.  Wharton and Fitzgerald in their time however, were members of two vastly divergent generations.  Wharton was certainly not tripping around Bricktop's with Zelda and the crew in Paris.  Wharton was 63 and Fitzgerald 28, and although they wrote about the same part of world, New York, the books themselves were superficially worlds apart.   But ninety years has proven that not much in the way of external differences can retract from the simple fact that these novels, among others that prove to be immune to the aging process, ignite a fire in our modern souls.  They manage to be suspended in time.
Wharton and Fitzgerald actually met once, in 1925. (An imagined look at this meeting was recently brought to the stage by a Chicago theatre company in Tea with Edie and Fitz.) It was Wharton who extended the invitation, and they had tea at her estate outside Paris.  Wharton had always been wealthy, and she was, of course, a woman — no small hindrance at the turn of the century – making her success even more formidable.  Fitzgerald grew up comfortable enough, but in the shadow of World War I, and he was still insecure about his potential as a great novelist. The Great Gatsby would not achieve the heady success it enjoys today until after his death. In her invitation to Scott, Wharton wrote "To your generation, I must represent the literary equivalent of tufted furniture and gas chandeliers."  Perhaps her self-deprecation was an attempt to make Fitzgerald, who had allegedly burst accidentally into her publisher's office in Paris one day and knelt at her feet in worship, feel more at ease.  Perhaps Fitzgerald really was intimidated.  We know Fitzgerald drank too much on the drive out with his companion Teddy Chanler, and that he stumbled and swayed around Wharton's elegant drawing room as he relayed some inane story.  In her diary, Wharton described the meeting with one simple word—"awful."  Surely she respected Fitzgerald's work, but whether or not she would enjoy being compared to him today, is questionable.
The word 'timeless' must rely on time and the passage of it.  A novel can only be defined as 'timeless' if it has stood the tedious test of it, and writers never get to see if they pass that test.  Wharton and Fitzgerald would have known this, and likely hoped for that immortality.  In their brilliant works of 1925, they hit upon a multitude of chords that resonate for readers of every generation. Consider Newland Archer in The Age of Innocence, with intense lust and desperation, trying to mentally will the Countess Olenska to stay with him another moment, by focusing all of his energy on her fugitive hands:
Archer felt that at any cost he must keep her beside him, must make her give him the rest of her evening.  Ignoring her question, he continued to lean against the chimney-piece, his eyes fixed on the hand in which she held her gloves and fan, as if watching to see if he had the power to make them drop.
Haven't we all felt the irrational pull of love and lust luring us towards the folly of magical thinking? And that panic that renders us immobile but frantic to make a move?  Make the phone ring, make the text come through…Maybe if I do such-and-such, he or she will call. We let all our mind and body focus onto one extraneous point, perhaps because we can't bear to rationalize our feelings.  Our world becomes completely detached from reality when we are in love, and Wharton expresses it so perfectly:
He had built up within himself a kind of sanctuary in which she throned among his secret thoughts and longings. Little by little it became the scene of his real life, of his only rational activities; thither he brought the books he read, the ideas and feelings which nourished him, his judgments and his visions. Outside it, in the scene of his actual life, he moved with a growing sense of unreality and insufficiency, blundering against familiar prejudices and traditional points of view as an absent-minded man goes on bumping into the furniture of his own room.
This is happening in 19th century drawing rooms, with all the external symbols of restraint and composure.  Inside, however, it is no different from a teenage girl on her couch in 1960 hoping for a call or from a young man eager for a text message in 2013.
In Fitzgerald's The Great Gatsby, we find similar impeccable articulations.  For example, when Gatsby has finally succeeded, through a series of leaps and bounds, to bring Daisy to his gilded mansion, Nick Carraway describes his image of the love-struck millionaire, suddenly so unsure of himself:
He hadn't once ceased looking at Daisy and I think he revalued everything in his house according to the measure of response it drew from her well-loved eyes.  Sometimes too, he stared around at his possessions in a dazed way as though in her actual and astounding presence none of it was any longer real.
Even if we can pinpoint lines and paragraphs that feel so current to us, the question still bodes — why does it matter so much? Why do we crave to see our own thoughts and feelings articulated?  Maybe because it grounds us, like being human makes sense somehow, if one can see oneself in another's timeless words.
The costumes of a different age, the strange ways of speech, all of the superficial differences are often the fun of fiction that sweeps us up.  But the characters in these great books all lived and loved and suffered before we did, and they made it through. When we can relate to them, to a person who exists even fictionally, and has done so for fifty or one hundred years or more, we find comfort in knowing that, despite all of the uncertainty in our own lives, we will go on as they go on. If time does not alter them, then it will not alter us, and there is safety there.
Originally Published in 2013 but updated on Caitlin O' Hara's passing in 2016.