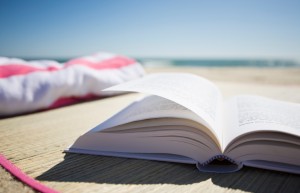 Introduction by Amanda Festa
Summer reading is as representative of the season as backyard BBQs and beach days.  If you are like us, you enjoy the throwback to youth when school ending led to a list of must-read books for summer consumption.  Now, "must-read" isn't synonymous with falling behind in September, but instead with the excitement of reading for its own merit.  While this time of year sees an influx in lists suggesting new books to read this summer, Literary Traveler is doing things a little bit differently.  While there are a number of notable books recently released, there are also some older books that you may have overlooked, and there is no time like the sunny present to dive in to new books, or books that may be new to you.  While "beach reads" may typically be thought of as light, guilty pleasures that can be quickly consumed, we tend to disagree.  The beach provides the perfect backdrop for a good book — the sun a natural reading light, the ocean an ambient soundtrack, a lounge chair the ultimate on-the-go reading nook.   So why limit our consumption to thrillers and the romance novels?  This summer, let's redefine "beach read" and give a chance to some genres that are often overlooked when packing a beach bag.
See what we recommend for Literary Fiction, relive your glory days (or be grateful to have made it out of high school) with Young Adult Literature, squash down that age old question of whether or not your should have foregone that English major in favor of a law degree with Non-Fiction, and then leave reality completely with a selection of  escapist Fantasy, even if it's not typically your genre of choice. Keep reading for our 2013 Summer Reading choices in:
Travel Literature
Books to Film/TV
Non-Fiction
Classic Literature
Literary Fiction
Young Adult Literature
Fantasy
We pose to you a Summer Reading Challenge!  LT contributors each picked five books in one of their favorite genres, some old and some newly released.  Pick one of each genre and choose your own (summer reading) adventure — or join the Literary Traveler staff as we embark on our Summer Reading Challenge — a bibliophilic bucket list for summer that will pique our interests and test our genre loyalties.
*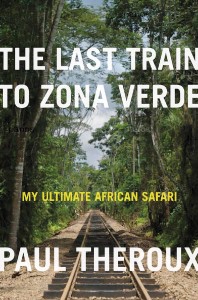 TRAVEL LITERATURE — By Jack Callahan
Whether you're looking for a vacation, or a vacation from your vacation, travel literature transports you to far reaches of the world alongside great scholars and great adventurers. Great travel writing simultaneously feeds your wanderlust and furthers it, leaving you satisfied, but never completely satisfied.  Below is a list books to satiate your exploratory urge…at least for the summer.
1. In Patagonia, Bruce Chatwin (1977)
Working for the English publication, Sunday Times Magazine, Bruce Chatwin travelled the world on assignment for the magazine. In 1974 he left for South America, sending the telegram "Have gone to Patagonia" to his employer and disappearing for six months. A few years after his return he published In Patagonia, redefining the genre of travel writing and inspiring generations of travelers.
2. The Way Finders: Why Ancient Wisdom Matters in the Modern World, Wade Davis (2009)
Anthropologist and National Geographic's Explorer-in-Residence, Wade Davis takes his readers on a trip through time and space, exploring various groups of people that have gone unchanged through the centuries. The last tropical nomads in Borneo, a Nepalese Bodhisattva returning from 45 years of isolation and meditation, and descendants of the lost Anaconda people of the Amazon, among others, impart their wisdom, through Davis, to the reader. A book that concerns itself with "rediscovering a new appreciation for the diversity of the human spirit," The Way Finders is a must-read.
3. The Last Train to Zona Verde: My Ultimate African Safari, Paul Theroux (2013)
In his new book, travel-writing extraordinaire Paul Theroux treks north from Cape Town, through the jungles of southern Africa and away from the lights of the city, the comforts of the modern world, tourists and postcolonial independence movements. Moving through Namibia and into Angola, he crosses the Red Line, where patchwork huts and poverty prevail within a void in our modern world. Theroux originally came to Africa as a twenty-two-year-old Peace Corps volunteer, and his return to the continent fifty years later holds both the memory of his youth and a critique of the land he once loved.
4. Wanderlust, Rebecca Solnit (2001)
Rebecca Solnit's Wanderlust is a history of walking, examining the simple movement of putting one foot after another in connection with thinking and culture, through works of fiction and feats of reality. From philosophers to mountaineers, Gary Snyder to Elizabeth Bennett, treadmills to protests, Solnit follows the threads of the basic act of walking into the far corners of cultural identity.
5. Sailing Alone Around the World, Joshua Slocum (1900)
Slocum was the first man to sail around the world on his own, a journey of 46,000 miles that he recounts in his book, Sailing Alone Around the World, written in 1900. One of the seminal adventure texts, Slocum's voyage on Spray, his 36-foot sloop, took him from his home in Fairhaven, Massachusetts to distant places like Morocco, Montevideo, the Strait of Magellan, Samoa, Durban, and St. Helena. Spray and Slocum disappeared on the way to the West Indies in 1909, making this adventurer an even more intriguing subject.
BOOKS TO FILM / TV — By Katie Stack
Summer is the perfect time to hit a Saturday night blockbuster, to catch up on that television series you never could find time to watch during those short winter days, and to read all those books piling up on your bedside table. You can link all these leisure activities together by reading the inspirations for some of the film and television adaptations premiering this fall!
1. Ender's Game, Orson Scott Card (1985)
In a future where Earth is under attack from a hostile alien race, children are genetically engineered to become the perfect soldiers. Ender Wiggin, the third child in a family whose first two children were not quite the right types of genius, attends soldier-training while his siblings apply their massive intellect back home. Complete with bullying, loneliness, and manipulation, soldier-training is not too different from today's schools, and genius siblings can be just as awful or loving as those with average intellect. This action-packed and oh-so-smart novel's movie adaptation hits theatres this November.
2. Alice's Adventures in Wonderland, Lewis Carroll (1865)
Carroll's novel of a young girl finding her way down the rabbit hole is now considered a classic. As Alice winds her way through a world of wondrous creatures and confusing scenarios, Carroll's playful use of both language and logic makes the book a fun read for both children and adults. The story has been adapted for film many times in the past, including by Walt Disney in 1951 and Tim Burton in 2010, to name just two of many. Once Upon a Time in Wonderland, a spin-off of ABC's popular Once Upon a Time, premieres this fall.
3. Catching Fire, Suzanne Collins (2009)
The second book in the young adult "Hunger Games" trilogy, Catching Fire picks up where Hunger Games left off. Katniss and Peeta have returned home victorious. All is not right in the Districts, though, and there are whispers of rebellion. The Capitol, already furious at having lost at its own game, will not tolerate any more mishaps. Catch up on your reading before November, when the adaptation will surely be playing at a theatre near you.
4. Carrie, Stephen King (1974)
One of King's earlier works, Carrie is a terrifying look at the interactions between high school students, with a supernatural twist. Carrie, bullied at school by her peers and suffering at home with her mother, discovers she has telekinetic powers, that she can move things with her mind. Things are looking up for Carrie until her senior prom when everything goes horribly, horribly wrong. This creepy thriller, adapted for film in 1976, was hugely successful; the remake comes out this October, just in time for Halloween.
5. The Legend of Sleepy Hollow, Washington Irving (1820)
Irving's story set in post-Revolutionary America tells the frightening tale of the Headless Horseman, a ghost that rides the streets of Tarry Town and ends up felling poor Ichabod Crane. One of the best known early-American stories, it's a must-read at some point. Already adapted for film (Johnny Depp starred in 1999), FOX re-tells the story with a modern twist starting this fall.
NON-FICTION — By Antoinette Weil
Whether you're looking to increase your knowledge of the world around you, get inspired, or have a good laugh, non-fiction is a summer must. Whichever style you choose, you are sure to learn some things you didn't know. And these tidbits make great cookout conversation when you want to show off to your family and friends!
1. The Glass Castle, Jeannette Walls (2005)
Because I love it. A story of the very unusual feat of growing up in the nomadic and anti-traditional Walls family. Read on, sometimes with horror sometimes with pity, about the childhood and subsequent rise to journalistic success of Jeannette Walls. This was published in 2006, but it is my favorite non-fiction title and one of my favorite books of all time. If you haven't read it, you must!
2. Lean In: Women, Work, and the Will to Lead, Sheryl Sandberg (2013)
Because it's a hot-button issue (especially if you're a woman). This controversial self-help book addresses the so-called glass ceiling that women face in the workplace and has been making waves since it hit the shelves in March. Love it or hate it, it is a must-read for 2013.
3. Is Everyone Hanging Out With Me? (And Other Concerns), Mindy Kaling (2012)
Because we want to laugh. The autobio/ 'As I see things' comedy written by The Office star tells about her many hats. A child of hardworking professional immigrants, and a successful screenwriter, comedian, and actress, Kaling's comedic memoir gives personal insights and musings along the way.
4. The Spark: A Mother's Story About Nurturing Genius, Kristine Barnett (2013)
Because we all need a little inspiration and uplifting. The author's son Jake is a genius in the literal sense. A Quantum Physicist at age 12, he is believed to be on the path to a Nobel Prize. But his talents were almost undiscovered because of the Autism diagnosis he underwent at age two, doctors telling his parents he would never be able to tie his own shoes, let alone read or write. This book documents the journey of mother and son from dark uncertainty to brilliance.
5. The Black Count: Glory, Revolution, Betrayal, and the Real Count of Monte Cristo, Tom Reiss (2012)
Adventure, racial issues, war and the bond of father and son, all jam-packed into this book, are what make it such a popular read—and the 2013 Pulitzer Prize winner for Biography. The protagonist of The Black Count,  Alex Dumas, may strike a familiar chord with readers as he is the father of The Count of Monte Cristo writer, Alexandre Dumas, and the basis for much of his writing. This gives the true story of his rise from slavery to Army commander and much more.
CLASSIC LITERATURE — By Jessica Monk
When my editor asked me to summarize some reasons for reading a selection of classic books this summer, I raised an eyebrow in her direction. I thought about replying in textspeak: "read the classix, b-coz it's the rite thing 2 do." The truth is there are a lot of factors to consider when committing to any book during holiday time. The classics can seem like big projects, which puts people off, but the strength of a classic novel — books that past readers have been passionately committed to and have been richly rewarded by — connects you to readers past and present.
1. The Portrait of a Lady, Henry James (1881)
This is a novel that I will re-read someday, whether it's this summer or next summer. To read the final scene is to feel the exquisite pain of a missed opportunity, of joy that is renounced forever, willfulness chosen over free will. I'm not giving away any specifics. Just read it.
2. The Sun Also Rises, Ernest Hemingway (1926)
This is the Hemingway starter novel all my Hemingway fan friends recommend. It was his first novel, written in a welter of weeks. For me it makes sense to read The Sun Also Rises after A Moveable Feast (1964). The latter was written about episodes in his personal and artistic life leading up to his narrative breakthrough with The Sun Also Rises.
3. The Idiot,  Fyodor Dostoevsky (1869)
I'm told The Idiot is one of the most compelling works of Russian literature. It's a less obvious choice than War and Peace, Crime and Punishment, or Anna Karenina, and it seems to revolve around a figure whose spiritual outsider status and ill-health mirror the experience of Dostoevsky himself at points in his life.
4. Moby Dick, Herman Melville (1851)
The strangest thing I've heard about Moby Dick is that it is actually a really funny book. Yes, it is also rumored to be a serious tale of one man's obsession, but I'm fascinated that so many people seem to have latched on to the offbeat comedy that runs through this must-read classic.
5. The Tenant of Wildfell Hall, Anne Bronte (1848)
Anne is always thought of as the mildest Bronte with the weakest literary impact of the three. But Anne's literary reputation was as strong as her sisters until Charlotte prevented the republication of The Tenant of Wildfell Hall after her death. The novel was extremely successful and controversial when it was first published – it sold out within 6 weeks. The same reasons why Charlotte disapproved of the novel – its controversial depiction of alcoholism and the break-up of a marriage – were what made it of interest to the public. This summer it's time to give the sweet-natured Anne a chance to speak in her own surprisingly self-assured tones.
LITERARY FICTION — By Caitlin O'Hara
For me, a true summer read is the best the literary world has to offer. I want prose to marvel at and an ending that grabs at my heart. The greatest literary fiction does just that, and here are a few I am hoping to get into this summer, as well as some surefire recommendations.
1. Transaltantic, Colum McCann (2013)
Both Let the Great World Spin and Dancer have left me in awe of this Irish writer's ability to weave complicated characters together into stories that seem to encompass all of life's emotions.  Reading his 6th novel, which brings us back to his homeland of Ireland, is an absolute must this summer.
2. Mary Coin, Marisa Silver (2013)
Imagining the lives of those involved in the famous "Migrant Mother" photograph by Dorothea Lange is where this story begins, but it quickly becomes so much more.  Mary Coin is about reality vs. perception, about true hardship, about what it means for a life in the end, and about seeing what we want to see, as Americans.  It is a great book to read as we reflect on Independence day.
3. The Good Earth, Pearl Buck  (1931)
For those of you who haven't heard, a previously undiscovered novel of Buck's was recently unearthed in Texas.  The Eternal Wonder: A Novel is set to be released October 22nd of this year.  Rereading one of Buck's finest novels is a wonderful way to get reacquainted with this great American author.
4. Cascade, Maryanne O'Hara (2012)
Yes, a relative (she is my mother), but I am one voice among many praising Cascade, a novel of art and desire in the 1930s. If you don't believe me, check out the laundry list of accolades the book has received: Slate, 2012 Best Books; Boston Globe, Best of the New 2012; People Magazine, People Pick; Library Journal, Best Bet 2012; Mass Library Association, "Must Read" 2013.
5. All That Is, James Salter (2013)
James Salter is 88, and it has been almost 35 years since his last novel was published.  In addition to five previous novels, he has published a memoir, poetry, short story collections, travel writings, and a book about food with his wife. I have heard nothing but praise for All That Is, a novel set in the aftermath of WWII and focusing on the everyday life and inability to love, of its male protagonist.  Salter is known for his impeccable prose, and I can't wait to sink in.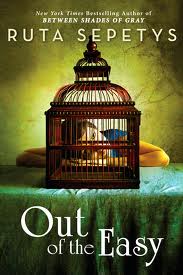 YOUNG ADULT LITERATURE — By Amanda Festa
In recent years, YA literature has catapulted in popularity with mature audiences gravitating towards Twilight and The Hunger Games.  Some YA Fiction oozes with fluffy soapy goodness, and some, while easy to read, provides keen insight into adolescence that is often best enjoyed through a nostalgic lens. Whether you are looking for a quick beach read, want to relive that first summer love, or perhaps, want to explore a dystopic future through unjaded teen eyes, YA Fiction has a lot to offer adult summer readers. YA Literature may be targeted to young adults, but let's not forget the 'literature' part as well.
1. Feed, MT Anderson (2002)
A dystopian look at the future of technology that hits uncomfortably close to home in a data-fueled world.  In Anderson's vision of the future, humans are implanted with "feeds" — a constant influx of data mainlined directly to the psyche, including advertisements and telepathic text messages.  While it seems a little far-fetched, the image of an older man, who still wears his "feed" externally, is a throwback to bygone clunky technologies that have since been streamlined.  And now with Google glasses, is this future really so far-fetched? But, buyer beware.  This tale is a cautionary one, and the "feeds" have also served to dumb down the populace and make human face-to-face interaction even more bumbling and awkward than in our own text and e-mail dominated world.  By books end, you will be itching for some face time (and not FaceTime).
2. The Perks of Being a Wallflower, Stephen Chbosky (1999)
A coming-of-age story published by MTV, this novel could have went in many directions.  Yet, it's depiction of youth from the perspective of an outsider is unique in its form (a series of letters) and its heart — a pulsating beat of insecurity and hidden depth.  Charlie has had a tough life, and entering high school only adds an extra layer of conflict.  But, it's the people he meets — the out-of-his-league girl he falls in love with, the teacher that serves as his guide through the jungle of adolescence — and the experience of finally feeling a part of something bigger, that make this book a must-read for anyone who has attended high school and lived to tell the tale.
3.  City of Bones, Cassandra Clare (2007)
The first in the "Mortal Instruments" series, this book finds fifteen-year-old Clary witnessing a murder that may be more than it seems. She learns the killers are actually "Shadowhunters" — human demon fighters.  Her world is further shaken by the realization that she is deeply connected to this supernatural world, setting off a coming-of-age series with the added burden of saving the world.  Often compared to Buffy the Vampire Slayer in it's style and substance, adult Buffy fans and teen fantasy fans alike will become addicted to the universe, characters, and inevitable love triangle.
4. Meant to Be, Lauren Morrill (2012)
This recent take on the YA love story is a refreshing alternative to the Twilight-esque representation of teen romance.  The characters are relatable, and the story is one that provides an important wake-up call to those who dream of finding their Edward.  Still in high school, Julia has her life figured out, including the boy she will end up with — her "meant to be."  But on a class trip to London, her beliefs are shaken by Jason, a free-spirited joker who challenges her neatly-plotted life plan and exposes the true fact that is missed by many — sometimes what's "meant to be" isn't meant to be.  [To learn more, read our interview with Lauren Morrill]
5. Out of the Easy, Ruta Sepetys (2013)
Set in the French Quarter of New Orleans circa the 1950s, Sepetys paints a lush setting and a vivid, unfortgettable cast of characters.  Josie is a strong, independent protagonist at odds with her mother, a prostitute at one of the city's infamous brothels.  She is torn between her home and her desire to escape to a Massachusetts college, where no one knows about her past.  In the meantime, she is swept into a murder mystery that takes her (and readers) through the underbelly of New Orleans. A great summer read for its dusky NOLA setting and its scandal-laden plot — you will not put this one down.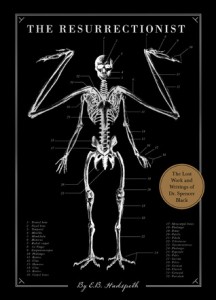 FANTASY — By Jamie Worcester
With all the reality checks we get on a daily basis, it's important for us to be reminded of the infinite possibilities that exist within our imagination and beyond our tangible reach.  Fantasy helps us to explore the worlds that we dream about and the possibilities that we both hope for and fear. It can serve as an escape from our usual routines, as well as a source of inspiration for many. Mythical, inviting and reflective, these books can offer you a vacation from your vacation and a surefire way to beat the heat.
1. The Ocean at the End of the Lane, Neil Gaiman (2013)
This novel can be described as an existential fairy tale written by an author who's known for giving his readers something both mysterious and magical. The novel is conveyed through a first-person narrative by a protagonist that remains nameless. He is realistic to the point of pessimism when it comes to his perspective on life, and yet it's hard not to sympathize with his character. Upon returning home for a funeral he finds himself remembering more from his past than what he once considered to be true, memories both haunting and fantastical. Follow the story as he reflects on his experiences during childhood and how those experiences fuel the questions he carries into adulthood – questions that you, the reader, may find yourself wanting to explore.
2. The Shining Girls, Lauren Beukes (2013)
A suspenseful tale of time travel and murder that takes readers from the 1920s to the late twentieth century, as Harper Curtis becomes a time traveling serial killer on a mission to kill the "shining girls" — women whose unmistakable auras call to him like a reversed maniacal siren song.  When one girl survives the attack, she sets out on a mission to stop him in this gripping thriller that merges crime fiction with fantasy, and has you engrossed until the very end.
3. A Game of Thrones, George R.R. Martin (1996)
Now a television juggernaut, the original book from which Game of Thrones was first adapted, presents an intricate web of characters and points of view.  If you are a fan of the HBO show, or simply love to be swept up into an alternative reality, the first of Martin's "A Song of Ice and Fire" series will have you on a race for the throne, or at least the nearest library or bookstore.  What better time to dive into the series than summer?  The book is a smart way to spend a beach day and simultaneously curb the Game of Thrones withdrawals.  As a bonus, reading the books will be an emotional preemptive strike against any further Red Wedding-esque shock and subsequent turmoil.
4. 100 Years of Solitude, by Gabriel Garcia Marquez (1967)
100 Years of Isolation follows the history of the Buendia Family through multiple generations, beginning with the point in time in which the patriarch, Jose Arcadio Buendia founded the small village of Macondo by means of accidental exploration. After years of having no contact with those outside of the village limits aside from traveling gypsies, gradually the inhabitants attempt to explore new wonders and curiosities that ultimately lead to the demise of a village once isolated. This book explores Latin American culture as it clashes with western discoveries and modernity, and parallels the author's own experiences growing up where westernization conceived both good and bad outcomes. Childlike is its' descriptions, this book is both simple and fantastical and depicts magical realism at its best.
5. The Resurrectionist: The Lost Work of Dr. Spencer Black, E. B. Hudspeth (2013)
Published in 2013, this two-part book reminds me of a modern day Victor Frankenstein, who utilizes a scientific approach to the mythical creatures of our imaginations and becomes obsessed with the truth of his work. The story takes place in Philadelphia during the late 19th century and follows the work of a controversial surgeon, Dr. Spencer Black. This fictional character is compelling, crazed and fervent in action, all the while remaining enchanted by mystified ideals. The Resurrectionist is a two-part book, starting with his early life as he exhumes corpses and completes his training in the medical field. The second part is a collection of Black's greatest scientific work that he titles, The Codex Extinct Animalia, the pages of which detail the anatomy of mythological beasts — it is the collective work of a brilliant and deranged mind.
*
Stay tuned for more on the Literary Traveler Summer Reading Challenge! In the meantime, let us know what you think about our choices.  What have you already read?  What are you most excited to read?  Share your opinions in the comments section, or on our Facebook or Twitter.  Your input may impact our final choices for the LT Summer Reading Challenge!