By Jessica Monk
Ultimately the tragedy of the movie and its redemption turn out to be one and the same: that Philomena and her son have been looking for each other, and that they have found each other too late.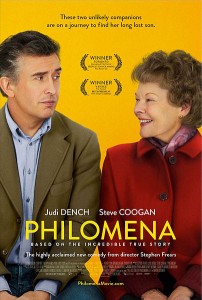 The story of a mother who has lost her son and a young woman punishing herself for the "sin" of having a child out of wedlock, Philomena was never going to be an easy ride. For most people it was bound to wring out a few emotions, and I'm not ashamed to admit that I was one of them. I generally don't do the crying at movies thing – at least not at the obvious bits. My reactions are all over the place – dry-eyed at funerals, crying at birthday parties – so movies like Philomena (and funerals) can be a bit of a liability either way. As usual, I was astounded and even full-on Hitchcock-horrified at my reaction, as I found myself cut up about a scene where Steve Coogan's character drives his rental car through the lush fields of Tipperary. This was before any of the sad bits had even started. But being a recent immigrant from Ireland to Boston, it was the sudden appearance of "home" that jolted me emotionally. And not only did "home" leap out in front of me like a bright eyed charity worker, it also did so wearing its most appealing, bucolic, Irish-tourist-brochure outfit. It was so jarring (and I was so embarrassed), that I had to do post-game analysis on my reaction 'til I narrowed it down to two causes. The first was the strange sense of shock at seeing the familiar become exotic. I realized suddenly, that I had become accustomed to the streetscapes of a US city, not the green place I once took for granted. And second was the same stepping on the brakes feeling I get whenever I am affected by any emotional button-pushing: "I can't believe I fell for this sh*t." But I did, and I don't regret it – because I was responding to something real – I mean really real, not just my own homesickness.
Martin Sixsmith's The Lost Child of Philomena Lee, on which the movie is based, is a human interest story about an endearing old lady, but it was also an important journalistic exposé about the treatment of "fallen" women working in the Magdalene Laundries. The separation of Philomena Lee and her son and the Catholic Church's dishonest cover-up was a betrayal that was a big deal on a national, not just a personal level. The film has since lent its weight to the cause of women who are demanding information about their lost children from the Catholic Church. All this reality makes it an interesting proposition as a literary adaption. Philomena's story is a story within the larger story of what women like her had to go through: as such it is a "literary" piece of journalism that sculpts its materials into a tale told on behalf of all the others. But the facts of the story remain genuinely dramatic. And so the movie doesn't need to make a complete break for it and become fantasy. Instead it comes full circle – bringing the words on the page to life through its living breathing actors at all those real, picturesque locations.
I ended up seeing Philomena by mistake. I thought of it as a worthy 'issues' film that I could take or leave. Growing up in Ireland, I recall so many dour films being ceremonially trotted out to mark the distance between economically prosperous, so-called socially liberal Ireland and the cruel, limited country we were trying to bury. But the big budget movie we had planned to see wasn't playing, so Philomena was what was on offer, like it or not. And it wasn't dour, and it wasn't a carbon copy of the original. Most of the dramatic license in Philomena is taken at the end of the movie, when understandably, the director Stephen Frears was looking to tie things up with a big bright ribbon. However the plot by itself – the tragic missed connection between a mother and son – was poignant enough to make these ribbon-tying moments acceptable.
The movie doesn't need to make a complete break for it and become fantasy. Instead it comes full circle – bringing the words on the page to life through its living breathing actors.
Before going to see the movie, I had heard that Philomena captures the figure of the Irish Mammy perfectly, her batty turns of phrase, and the strange combination of total innocence of certain matters (technology, popculture) with hilarious frankness about sex and childbirth. It was a strange experience sitting in a movie theater with other, mostly American cinema goers who seemed to be "getting it," even laughing out loud when Philomena unintentionally makes a joke at the expense of Americans. When Philomena expresses her concerns about how her lost son might have ended up, the dreaded prospect of him being "obese" is almost as frightening to her as that he might be homeless. As it turns out (spoiler alert), the son who was sold by the Church to American adoptive parents is gay, something which Philomena, a nurse by profession, barely bats an eyelid at. Ultimately the tragedy of the movie and its redemption turn out to be one and the same: that Philomena and her son have both been looking for each other, and that they have found each other too late. Her son, knowing only that he is Irish by birth, was searching for the home he never had, and thus the story ends unexpectedly right where it started, at the convent in Roscrea, Co. Tipperary.
Though the film was hardly revolutionary in visual terms it did wrest great performances from its leads. Dame Judi Dench has become one of those cast-iron British Institutions lately, always cast in the role of the peppery British matriarch. It's a tradition that's yawn-inducing, not just because of Dench's frequent reprisals of it, but because its bric-a-brac British Nationalism feels tired, like it's being wheeled out for a function. In Philomena, Dench got to step out of the whalebones and breathe through a much more vulnerable character whose dignity wasn't hitched to her ability to maintain a stiff upper lip. Steve Coogan, known for playing characters who can't shut up (24 Hour Party People, I'm Alan Partridge) was playing somewhat against type as the uptight London professional Martin Sixsmith, whose attempt to get back into the saddle of serious writing after a political scandal was completely derailed by the disarming Philomena. But one of the oddest, most endearing things about Philomena was the genre it seemed to pay homage to – the odd-couple buddy road movie. And that was what made it the enjoyable film I went to see, not the cinematic gruel that I expected.
As an adaption of literary journalism, its stealthiest success was not to change events to make them seem more dramatic, but to identify the genre to suit a movie-going audience. The arc of Philomena and Martin's story, like my reaction, like the process of adaption, is a full-circle emotional experience. It is full circle, not because emotional reactions and plot developments are predictable but because they're not. Just as distance can make what's familiar seem strange, Philomena's attempt to reunite with her son, and his attempt to go home sends them in startlingly opposite directions. Her recognition that the grown man in photographs is still the son that she loved is tinged with an unbelievably poignant strangeness. For everything about her son – down to his career as a lawyer in Washington – is so American, so expansive in its vision of success, so unlike the quiet life of his very ordinary Irish mother. And yet she finds her son in the end, in the place where she lost him. It was this hairpin twist that really did it for me. It made me wonder if there shouldn't be a branch of the emergency services that deals with the emotional fallout of films like this. I won't reveal any more, but I will say that real life is well served by an adaption that takes it on the road. This adaption had the sensitivity to see that emotional connections can be unexpected, that the odd couple still has the power to bring humanity to the quest narrative and that the best stories (and adaptions) often take us back to the beginning.
*
Don't forget to check out our Fauxscar Nominations for best Literary Adaptions and let us know what you think!