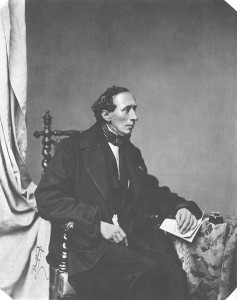 Millions of people recognize Hans Christian Andersen (1805-1875) as the author of over a hundred famous children's tales, but only a few people know the man behind the stories. The true Andersen was certainly not a writer of the happily-ever-after variety. Throughout his life, he was often very lonely–traveling around the earth and meeting hundreds of fascinating people, but never truly finding a person to share his life with.
Andersen considered himself to be an ugly duckling. He was abnormally tall and quite awkward, with sunken eyes, hollow cheeks, and a long, protruding nose. Like the duckling, he was sometimes teased and humiliated as a child, especially for his effeminate demeanor. As one story goes, the other children at the factory where heworked found him to be so girlish that they ripped hisclothes off to see if he was actually female. The writer's problems with ladies later on in life may have had more to do with his sexual repression than his unattractiveness or effeminacy. Danish scholar Johan de Mylius hypothesizes that this repression may stem from Andersen's childhood. When the boy's mother remarried in 1818, de Mylius asserts that, for 13-year-old Andersen, seeing his mother in an intimate relationship with a strange man may have been one of the factors which laid the foundation for HCA's later tendency to avoid . . . contact with women.
Though Andersen was never married, he did attempt to court some women. What he claimed was true love, however, is now characterized by scholars asinfatuation. His first victim was Riborg Voigt, who he met in 1830. Unfortunately, the young woman was already engaged to another man, and Andersen was plunged into great heartache. He expressed, in his diary and letters, the resulting despair: Almighty God, you are all I have, my fate is in your hands. I must submit myself to you! Grant me a livelihood! Send me a bride! Myblood craves love, as does my heart.
Thus, in 1843, a new infatuation began–this time, with Jenny Lind, a soprano nicknamed the Swedish Nightingale.Andersen's deep devotion to Jenny Lind lasted for several years, and he spent copious amounts of time with her in Copenhagen and Weimar. They parted ways, however, and when he next saw her perform in 1854, she was married and had a young daughter. The ungainly, disturbed writer was thwarted again.
There is no evidence that Hans Christian Andersen ever crossed the line of platonic love with his female acquaintances. He often found lust for a woman to be a foreign feeling. For instance, after reading Mathilde Fibiger's sexually charged novel, Minona, he confided to a friend that he found it to be wretched: "Here, love becomes animal-like, and love between man and woman–I know this myself–is pure in its flame; at least there is no consciousness of the sensuous element.
In Andersen's male relationships, however, he was much less reserved, and the question has been raised: was Hans Christian Andersen simply sexually repressed, or was he actually bi- or homosexual? Now, his name can be found on a hundred lists of Famous Gays and Lesbians in History, but until recently, this information was meticulously covered up or omitted–perhaps by the very conservative nation of Denmark. In the 2001 novel, Hans Christian Andersen: The Life of a Storyteller, Jackie Wullschlager uncovered previously censored material that almost unarguably proves that the great Danish writers deepest relationships were indeed with other men. It is clear from coded entries in his journal that he frequently fantasized about other men, and that his relationships with these men occasionally shocked society. For example, in the early 1860s he had a very passionate relationship with a ballet dancer, Harald Scharff, about whom Andersen wrote in his diary, I long for him daily. His relationship with Carl Alexander, Grand Duke of Weimar was also extremely intense, and Andersen wrote that they kissed and publicly held hands. However, all of this necessarily closeted information was, presumably, quite frustrating for Andersen. This frustration can be seen vividly, if metaphorically, in his tales in which the protagonist endures great conflict and despair.
Sadly, the fact remains that unlike the "ugly duckling", he never metamorphosed into a swan and lived happily ever after. Hans Christian Andersen died alone in 1875, but perhaps, the true Andersen, who has only begun to see the light of day, will be fully revealed as the amazing–if troubled–writer and fascinating man that he was.