By Rebecca Grenham
I'd wanted to head to Colombia ever since I finished Gabriel Garcia Marquez's Love in the Time of Cholera three years, nine months, and twelve days ago (I marked the day in my journal). I remember the DC café I was sitting in when I finished the novel. I put the book down just as a fresh batch of coffee beans began to brew, filling the room with the sharp, bitter smell that awaits most of us in the morning. The room was dim, but I could feel sunlight warm my cheeks through the window. I hadn't noticed any of these things before reading his novel. To me, that's Marquez's gift: he makes you really look at the world around you.
I left the café that day teary, choked up from the beautiful, lengthy love story. I'd been in a difficult spot that year and picked up the book with a heart hardened from dating apps. Somehow, Marquez had melted it. I knew what I needed to do: visit Colombia, his homeland, and see the land that had shaped the author.
A few months ago, I finally got the chance to go. My best friend and I flew down together one cold March morning. She went hoping to have fun, but I had one goal: understand Gabo, as Colombians call him, and see the country through his eyes.
We started in Bogotá. Surrounded by mountains, Bogotá looks as if the buildings grew out of the ground like plants. The mountains are green, a deep, Vermont kind, and the city looks pale in comparison, like the color's been sucked out of it. People walk with a sense of purpose. This is the type of place you come to get things done.
The city is, however, full of understated surprises. Our first day in Colombia, we went to the Plaza de Bolívar, the city's main square. While standing on the square, we noticed lights adorning a rooftop. With a shrug, we walked in that direction, then into the unassuming building that sat beneath the lights. As it turned out, the building was a gallery, filled with floors of work from local artists. Climbing the narrow stairs, we finally reached the top, which was a large outdoor bar with an asphalt floor. A tiny, skinny cat ran between tables. We sat in the corner. To one side of us, the sun was shining above the Plaza's cathedral. Under the sunlight, the Plaza finally had some color to it, and the cathedral stood as if it were glowing in gratitude.
Sipping my drink on the rooftop, I thought of Gabo. He'd studied in Bogotá but had few kind words to say about it, commenting mostly on the city's cold and rainy weather. Despite this, this Bogotá scene—sitting on top of a hidden roof next to a major monument, amused by a tiny, cranky, cat—felt like something from his novels. I wanted to beam. Day one in Colombia, and I'd already found him.
I found him again in Guatapé, a gorgeous small town outside of Medellín. Unlike Bogotá, Guatapé is full of color. Each building has designs painted at the bottom of them, such as flowers, animals, or simply a large, decorative X. Stray dogs wander about, happily eating from communal food and water dishes that town administrators leave out for them. Next to Guatapé sits a giant lake, and it's so vast that I wondered if on a rainy day the water looks like it'll come up to the shore and swallow the sweet town whole. As we wandered by the lake, a small girl called us over to look at a fish she was keeping in a bucket.
"He's mine," she said, picking him up with one hand. The fish squirmed, its scales shimmering silver under the strong sun.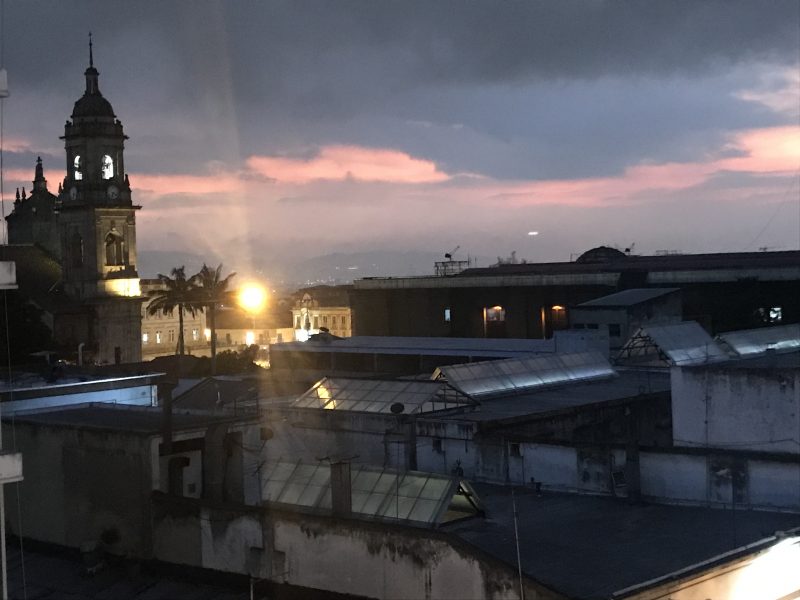 Something about the interaction felt like a scene plucked from a Marquez novel, the extraordinary beauty of the town and the mundane activity of catching a fish so unreal next to one another that it felt made up. I thought of the interaction later as we climbed La Piedra, a giant stone that overlooks the lake and the various islands that dot it. On top of the rock, the image looks like a painting. I thought of how Gabo once described memory as "scattered shards," and thought that the islands themselves looked like scattered shards of a mirror, spread out over the water like someone had taken a hammer to the ground and broken it up.
We then went to Barranquilla, where Marquez had lived for many years as a writer and journalist. A major trading hub on Colombia's Atlantic coast, Barranquilla is always in motion, especially during its four-day carnival. The city glowed under flowers and streamers, and everywhere we turned, someone was spraying mist. Carnival showcases Barranquilla's many dance and musical traditions, stemming from a variety of African, European, and indigenous roots. In fact, UNESCO called Barranquilla's carnival a masterpiece of oral and intangible heritage of humanity owing to this rich history. Watching the parade felt like someone "opened the door a crack wide enough for the entire world to pass through," as Gabo might say.
Though I felt bits of Gabo in all three cities beforehand, I felt him most strongly in Cartagena. Walking through the city, I felt like Florentino and Fernanda from Love in the Time of Cholera would pop up around the corner at anytime, reuniting after fifty-three years, seven months, and eleven days and nights. My favorite spot was a bookstore called Ábaco. The store sits in the middle of Cartagena's old town, on the corner of a beautiful street of yellow and orange buildings. Vines drape down the sides of the colorful buildings, lazily greeting those that walk below with pink and red flowers. The city had the same impact on me that Marquez's work does: I feel like I'm floating through it, until its beauty hits me so hard that I want to cry.
Cartagena is best seen from Castillo San Felipe de Barajas, an old military fortress and UNESCO world heritage site. The structure is deceptively massive, sprawling out from side to side like a spider. The fortress offers an amazing panorama of the city, stretching from modern high rises along the beach to the old town. I ascended, hot and sweaty, as I'd foolishly chosen to come in the afternoon. A breeze blew, causing the massive Colombian flag in the center of the fortress to flap back and forth like it was clapping. The sun was so strong that I had to squint, and I could feel my pale skin heating up so fast that I knew I'd be very sunburned by the time I got home. Somehow, staring at Cartagena, I didn't think about my burning skin or the aggressive wind or the sweat that had started to accumulate. I thought of Gabo yet again. A quote of his came to mind: "What matters in life is not what happens to you, but what you remember and how you remember it."
Looking at Cartagena, I tried to take in every detail: the skyline's sharp edges, the way the beach curved around the city like a claw, the sound of the flag flapping. I wanted to remember it all, to shut my eyes and recreate the picture that sat in front of me. That's the thing about Gabo; he makes you really look at the world around you.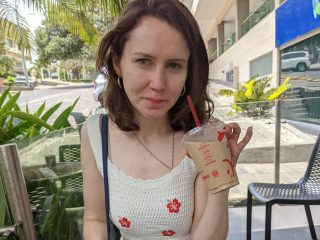 Rebecca is a writer based in the US. She loves to travel, write, read, and learn foreign languages. Follow her at on Instagram @rebecca_g_r