By Amanda Festa
I'm not going to mince words here (although I am better at mincing words than I am at mincing anything edible), cookbooks have taken on a life of their own in recent years. No longer are they simply catalogs of recipes, organized rationally by time of day or dietary preference. Instead, they are literature in their own right, peppered with anecdotes, introductions, and sometimes characters (i.e. the fabulous Parsley Cresswell). While you can find modern-day cookbooks inspired by just about anything from fad diets to celebreality chefs, my favorite new trend is the literary cookbook — with menus ripped from the pages of classic and cult favorites.  After all, turning some of my favorite books into cookbooks is one way to lure me into a kitchen. That may be a bit of an exaggeration, but my culinary skill level is definitely more Boxcar Children than Medieval banquet.
If you have an appetite for literature, check out these bookish cookbooks to feed your body and keep your literary diet on track.
1. Dinner with Mr. Darcy: Recipes Inspired by the Novels of Jane Austen
By Pen Vogler
Mr. Darcy has plenty of admirable qualities, but does he know his way around the kitchen? With the size of the Pemberley staff, it seems doubtful – but a Darcy fangirl can dream, right? Just don't let the moniker fool you, Dinner with Mr. Darcy is a cookbook that includes recipes inspired by all of Austen's novels. Thoughtfully constructed by Pen Vogler, who edits Penguin's Great Foods series, the tome is well-researched from real-life Regency Era cookbooks, with selections given a modern makeover for the contemporary cook.
2. The Nancy Drew Cookbook: Clues to Good Cooking
By Carolyn Keene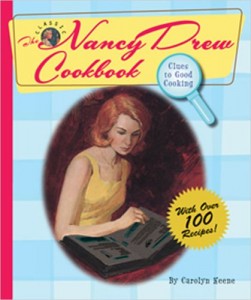 Nancy Drew has been a driving force behind my love of reading, writing, and mystery, but she has also left me with a pretty unnecessary desire to have "luncheon" at a roadside "tearoom" circa the 1930s. Although I'm pretty sure it's just a fancy way of taking a lunch break, Carolyn Keene makes it sound like the best part of the day – if only she inspired me to pick up a paring knife along with that magnifying glass. Nancy Drew may be constantly on the go, traversing the country in pursuit of counterfeiters, kidnappers, and nefarious characters, but the girl always makes the time to eat (that's my kind of feminist role model). Originally published in 1973, this novelty item is perfect for anyone who grew up on a healthy diet of Nancy Drew Mystery Stories. With recipes such as Double Jinx Salad and Broken Locket Meringues, Drew aficionados will quickly piece together the mystery of where these dishes get their titles. If you want to do a little sleuthing into the history of the book and its content, check out the Nancy Drew Sleuth website, which has an entire section on the Nancy Drew Cookbook.
3. True Blood: Eats, Drinks, and Bites from Bon Temps
By Alan Ball, Gianna Sobol, Karen Sommer Shalett, Marcelle Bienvenu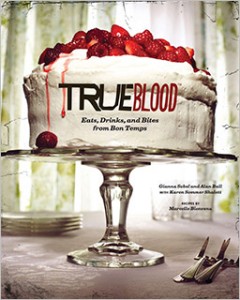 A cookbook based on a vampire-centric series? I'm not big on recipes that call for human blood, so color me skeptical. But the True Blood cookbook features 85 authentic recipes from the Louisiana bayou. Twenty of which are for drinks, which makes sense since two of the major settings for the books and show are bars – Fangtasia and Merlotte's. It is half scrapbook and half cookbook, which may lead some to believe that the novelty of the former would overshadow the quality of the food – but the recipes are authentic Southern fare – Truebie and foodie approved.
4. A Feast of Ice & Fire: The Official Game of Thrones Companion Cookbook
By Chelsea Monroe-Cassel and Sariann Lehrer
What began as a Game of Thrones food blog became a George R.R. Martin endorsed cookbook that recreates delicacies from throughout the Seven Kingdoms. Although you may shy away from the Red Velvet Wedding Cake (just kidding), luckily Martin has plenty of material to pull from.  Inspired by authentic medieval cuisine, there are items for every adventure level.  Broken down by region – the Wall, the north, the south, King's Landing, Dorne, and across the Narrow Sea – there will surely be something for every fan.  And, unlike the True Blood Cookbook, which focuses predominantly on the TV show, A Feast of Ice & Fire takes foods directly from the book, which is quoted throughout. The foreword by George R.R. Martin is only icing on the Wintercakes.
5. The Boxcar Children Cookbook
By Diane Blain
Ok, so this one may not be for those cooking on an advanced level – but for anyone who grew up with the Boxcar Children and was curious how the author could make milk poured onto stale bread sound like a breakfast of champions, do read on.  And, what child of the 80s did not try to add sugar and milk to snow for a tasty homemade ice cream on a budget? (Just me?) The recipes are simple, making it a fun adventure for adults who grew up on the Boxcar Children and kids who are just beginning to appreciate the merits of reading and cooking.
6. Shakespeare's Kitchen: Renaissance Recipes for the Contemporary Cook
By Francine Segan
While I don't think the standards of health and cleanliness for kitchens was up to snuff during the Renaissance, who doesn't love gnawing on a weighty turkey leg? But apparently, there is more to Renaissance cooking than a lack of utensils and a penchant for ale.  While not quite ripped from the pages of Shakespeare, this cookbook is inspired by sixteenth- and seventeenth-century recipes, which are largely reproduced in the text verbatim — grammar, spelling, and syntax intact — and then given a modern update by the author, who is clearly passionate about the work and often consults on historic menu planning. Scattered throughout are quotes from Shakespeare, so the Bard is never far. But be warned, these recipes are not for the novice chef.  If, like me, you had trouble with The Boxcar Children Cookbook Bread in a Bag, you may want to approach the Lobster with Pistachio Stuffing and Seville Orange Butter with a working smoke detector and a second pair of hands.
7. The Book Club Cookbook: Recipes and Food for Thought from Your Book Club's Favorite Books and Authors
By Judy Gelman and Vicki Levy Krupp
This book is quite unique, the perfect pairing of food and literature.  While many "literary" cookbooks find inspiration from a source text in the style of food (e.g. True Blood's Southern flavor or Shakespeare's Renaissance fare), The Book Club Cookbook connects a novel to a particular dish. When conceiving the book, the authors spoke with real-life book clubs, and they decided that the books would come first and the recipes second – thus avoiding the "easy way out" through choosing gastronomically rich texts.  What sets The Book Club Cookbook apart is its variety. From Middlemarch to Middlesex, the books chosen have only one thing in common – they are critically-acclaimed titles that have had much popularity as Book Club selections. Each entry is framed with an introduction to the book and the recipe, which lends the question: Why not a meta book club to discuss The Book Club Cookbook?
Originally Published in 2o13