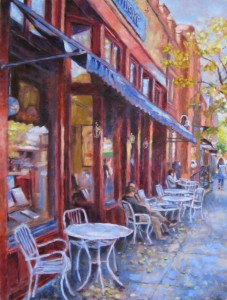 By Katy Kelleher
Though I love to visit bookstores while traveling, it is often difficult to justify a purchase. After all, I have to carry each and every item I purchase home on the plane, and with baggage fees being what they are, it's never a pleasant process. However, while vacationing in Boulder, I found myself inside a bookstore that was so charming and well-curated that it was impossible to leave empty-handed.
Residents of the gorgeous city probably know about Trident Booksellers and Cafe, which is located in the downtown shopping district at 940 Pearl Street. The store itself is rather small, but instead of feeling cramped, Trident seems intimate and cozy. Books are arranged with great care; every display is perfectly ordered and makes a certain abstract sense—even if it bears little resemblance to the Dewey Decimal System. There are displays of gardening books and green living, tables full of graphic novels, and one pile of truly unique tomes, the likes of which you wouldn't find in a Barnes & Noble window.
It was from this table that I picked up a book worth lugging home. It was small, with a red cloth-bound cover. The title, which was written in gold in quirky typeset, read: "Logodaedaly: Or, Slight-of-Words." Thumbing through the pages, I realized rather quickly that this wasn't an ordinary book. Part dictionary, part poetry, it is a compilation of words little used and rarely seen. These aren't the kind of words you will find on an SAT vocal test. In truth, they seem far too precious for that.
Take, for example, amphisbaena. This is a Latin term for "a fabled serpent with a head at each end, capable of movement in either direction." The brief description is accompanied by a fantastic drawing of the creature, done by illustrator Sherise Talbott. Further along in the book, I found the word "fernticle." This, author Erzsebet Gilbert tells us, is a noun, meaning "a freckle whose shape resembles a fern."
I was informed by one of Trident's very knowledgeable employees that this small book was published by a small, non-profit company called Wolverine Farm Publishing. He went on to describe this small, quirky business, which only publishes one to three books a year. "We have a few of their other titles," he told me. "And they're all great. They're really special books." He wasn't wrong. I could immediately see that Logodaeldaly was special. Filled with fantastic stories and lovely illustrations, it was like holding a piece of art.
Each entry in the Logodaedaly is stranger than the last. Words rollick across the page. They are musical and strange. Many of them are just as pleasurable to say as they are to read. It's a weird treasure of a book, one that I recommend for any poets, wordsmiths, or collectors of the obscure.
My visit to Boulder only lasted a week, but in that time, I was unable to find another bookstore that I found half as enchanting as Trident. I returned later in the week to eat at their outdoor cafe and browse through their other unusual publications. For a literary traveler, it was the perfect afternoon.