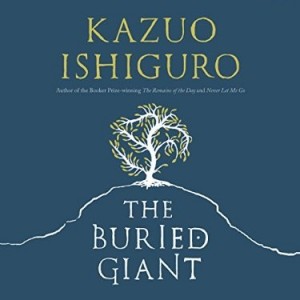 by Mary Kate Costigan
In his first novel in ten years, Booker Prize winning author Kazuo Ishiguro enters a realm he has never entered before: fantasy. The Buried Giant is not a traditional fantasy book, though. Set a generation after the reign of mythical King Arthur, it has ogres, knights, and dragons. Yet while these things are crucial to the story's plot, they are not the heart of the story. The Buried Giant is instead a tale of memory, love, and human connection that just so happens to involve a bloodthirsty sprite or two.
At the center of the novel are Axl and Beatrice, and elderly couple who set out across the unforgiving medieval landscape to find their long lost son. On the way they encounter the tentative peace between once-warring Briton and Saxon factions, monks with healing powers, and a knight of the late Arthur's round table. Their quest is not only to find their son, but to find their own memories; a mist of forgetfulness has settled across the land, one that must be overcome to find all they have lost.
One of many questions Ishiguro asks in his book is if all memories should be found. Because something is ours, does that mean it must be ours forever? Can love, such as the love between Axl and Beatrice, endure without the memories of a shared past? Ishiguro asks all this in his trademark style of not asking at all. What makes all of his work uniformly great, despite the vast difference in genre, is the implicit; he crafts scenarios and language that makes the reader feel without ever telling the reader to do so. We understand his characters, who they are and what they experience, not because he explains anything. He simply shows them to us and lets us understand naturally.
The Buried Giant, for all its subtle weaving of the fantastic with the incredibly human, is not Ishiguro's best work. It has neither the flawless craftsmanship of The Remains of the Day nor the emotional stakes of Never Let Me Go. And it is certainly not the novel for someone looking for pure, action-packed fantasy. But it is a beautifully written examination of memory and sacrifice that contains moments of true brilliance. A healthy dose of dragons never hurts, either.