Travel is increasingly a competition of access: who know what the locals know? Who knows the secrets of where to eat and visit? It can be exhausting as it is thrilling, and sometimes all you really want to do is read the menu of a lovely restaurant you've stumbled upon.
The Eat Smart Abroad app would like to change the way travelers approach this question, asking not just where but what should be eaten when you visit a new place. Do you know the best dishes in Turkey? How to navigate a market in India? How to order in Norwegian? Combining a bilingual menu guide with a run-down of flavors and foods particular to the destination, the apps encourages you to take charge of your gustatory adventure.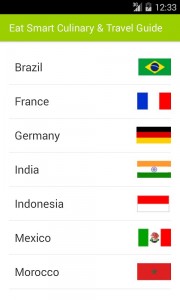 You may not, but the app can help, with a variety of features including Guides including chef recommendations, historical and regional background, phrases to used in restaurants and markets, and a bi-lingual index for easy reference. It gives a plethora of resources for more than ten destinations (and counting!) inside the app. Destinations covered include Brazil, Turkey, Indonesia, Mexico, Poland, Morocco, India, Sicily, Peru, France, Norway, and Germany, with more to come as the app updates.
The app is based on the Eat Smart Abroad guidebook series, created by the mother-daughter team of Joan Peterson and Susan Chwae. The two lead culinary tours and write the guidebooks; the app is a natural extension of the series, hoping to connect travelers with authentic regional cuisine and culinary experiences. There's no need for a wi-fi connection, and the app is free-standing–no account or advertisements needed.
---
Eat Smart Guides : How to Decipher the Menu, Know the Market Foods & Embark on a Tasting Adventure, $1.99 for Android and Apple