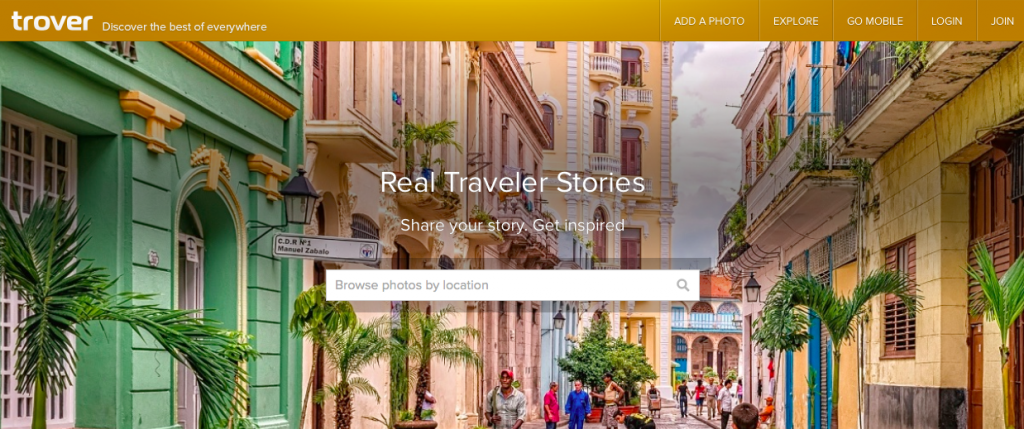 By Alex Nicoll.
Trover is an image-hosting app created by the founder of Expedia. In this age of Instagram, Facebook, Twitter (and Tumblr and Pintrest and…) you'd be forgiven if the first sentence of this article caused you to want to click away. But wait! Trover is an image-hosting app for travelers. It is specifically formulated to operate as a community-based guidebook. Images are tagged and thus searchable by location, allowing you to virtually travel to the location you're planning on eventually actually traveling to. While other image sharing apps such as Instagram and Pintrest allow you to search by location, they are not entirely focused on travel. Trover's feed for a certain location won't be full of selfies, only suggested travel sites.
Trover doesn't just offer geotagged images of things you should do, places you should go, and things you should eat. Most of the images are also accompanied by quick write-ups explaining the pictures. While the pictures are there to entice your interest, these bits of text are the best sources of information. They help to explain that the beach you are looking at is also a historical pirate's den, or that the wood-covered bar in the photograph is world famous for their home-brewed beer.
The app is a hybrid between image-sharing and a collaborative guidebook. Using other users input, you can create your own lists of destinations you want to check out. This makes for a much more diverse experience than a guidebook, giving you access to locations that would potentially be skipped over. Drawing on the collaboration possible with social media, the app allows you to create your own personal guidebook. Trover is available on Android and iOS, as well as in your web browser.