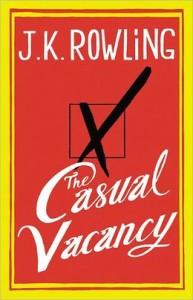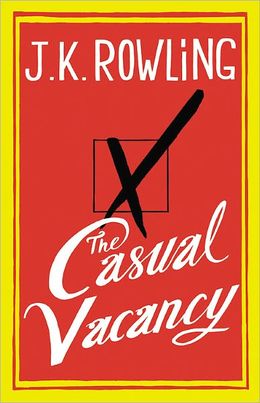 J.K. Rowling hit literary (and literal) gold when she wrote Harry Potter and the Sorcerer's Stone. The series made her world famous, and rightly so. Like many adults my age, I grew up reading the Harry Potter series, and never really stopped. Each book just got better and better, culminating in an epic battle that reinforced the major theme of Rowling's work: Love, above all else, is what makes life worth living. It makes us brave and kind. It gives us inner strength and moral character.
But the compassion Rowling displays time and again in her young adult novels is almost entirely absent in The Casual Vacancy. Set in the small, seemingly idyllic town of Pragford, the plot centers around an open seat on the parish council. The first chapter of the book follows Barry Fairbrother, a liberal and highly educated member of the council, in the hours up to his death. Rowling takes us through his death, an event that creates ripples throughout the community, stretching even into the nearby city of Yarvil. His death not only leaves a council seat open—it also leaves high schoolers unmoored, political ambitions thwarted, and a small town website shockingly open to hacks.
Though there are some promising threads in Rowling's loosely-woven plot, I found the entire book rather tedious. She paints her characters with a terribly unflattering brush. High school boys are slovenly, cruel, and sex-crazed. Girls are violent and jealous. Adults are trapped in bad marriages, cheating on their spouses, abusive to their children, and nearly entirely ignorant to their own failings. While in some novels, this may be seen as a reflection of the human condition, I think Rowling skews too far toward the negative side. Instead of giving us a Harry, who we root for blindly and believe in entirely, she writes dozens of "real" characters, none of whom I would like to meet.
At its high points, The Casual Vacancy reminded me very much of Zadie Smith's novels, particularly White Teeth. They both display a certain dry humor, and both focus heavily on the mundane details of everyday life. Both novels also display an awareness of the tragedies that afflict nearly every person on earth, dramas that are so common they almost become banal. However, Smith manages to make these shorelines compelling, funny and richly textured. Rowling's adult novel was reminiscent of this, yet I think it never reached its full potential.
I know many people will read The Casual Vacancy regardless of any sour reviews, and I don't want to discourage that. But when you are done, do yourself a favor and pick up White Teeth, a truly great novel.