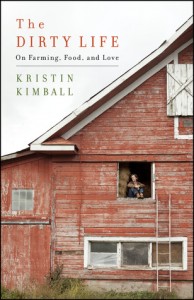 By Caitlin O'Hara
Kermit the Frog probably said it best, unknowingly, when he sang that it wasn't easy being green.  Being green these days is multi-faceted; an activity, a chore, a joy, and a trend as much as an enduring way of life.  So, how to make it last?  A trend by nature ends, but a trend of this nature, about nature, should not.  The green movement is about more than beautifully conceived farmers markets and dining on burgers topped with a runny farm-fresh egg in the West Village — those are simply the superficial perks of a meaningful lifestyle that starts in the dirt. The following books are a few recommendations of some reading that can get you started on your own path to living closer to the earth.
Gaining Ground — Forrest Pritchard
Forrest Pritchard is a self-taught farmer, but his memoir is more than just a review of his journey to success. It is heartwarming and funny, yes, but it is also praised as being an honest and beautiful story of one man's personal road towards sustainable agriculture.  Published in 1996 during an economic boom, Pritchard's struggle to save his failing family farm provides a unique perspective on a farm culture that the average person might not realize was not quite blossoming like the rest of the country. Buy it on Amazon.
The Feast Nearby — Robin Mather
The full title of Robin Mather's book — The Feast Nearby: How I lost my job, buried a marriage, and found my way by keeping chickens, foraging, preserving, bartering and eating locally (all on $40 a week) — might induce an eye roll in some (it did for me).  But as a long-time food writer, and a woman who has found herself in a common position that is unfortunately not a cliché — middle-aged and divorced — Mather weaves a story that is real and rewarding, for her and for us.  Everyone can learn from this book about sustainability and the reality of eating locally and about picking yourself up by the bootstraps.  Bonus — there are some delicious, foolproof recipes inside. Buy it on Amazon.
Organic Manifesto: How Organic Food Can Heal our Planet, Feed the World, and Keep Us Safe — Maria Rodale
Maria Rodale's book is chock full of information from organic farmers, scientists, and health researchers nationwide.  This is the back-story of organic farming, the details and education that will convince you to eat organic and local, the way that Fast Food Nation convinced [some] people to finally stop swinging through the drive-thru.  Read alongside a memoir to better grasp what people like Mather, Pritchard and the rest are striving for. Buy it on Amazon.
We Took to the Woods — Louise Rich
This book is unique in that it was published in 1942— 70 years ago — when many farms were still run the way that farmers today are now trying to get back to, before pesticides took over and farms were organic before "organic" was a thing. It was written before the 1950s boom of packaged, ready-made foods had started clogging Americans' arteries, and before hippies came around to try to steer us away from them.  In 1942, taking off to "get away from it all" wasn't a common trend in thinking the way it is today.  Louise Rich and her husband decided to move to the deep woods of Maine.  What results is a book that reads as both modern — addressing everyday issues of rural life — and historical, in that rural 1942 presents challenges that we in 2013 probably couldn't even create if we wanted to. Buy it on Amazon.
The Dirty Life — Kristin Kimball
Kimball is a great writer. She was in fact a writer before she became a farmer — a New York City-living, takeout-eating, miniskirt-wearing writer. The Dirty Life is a lot of fun — for us. For her, establishing Essex Farm in upstate New York, a farm that operates with draft horses, and without machinery, was a grueling task for which she had no training.  Luckily, her husband did, (he became her husband after a whirlwind courtship), and together from opposite ends of life they came together to make something truly worth striving for.  Check out her website for more information on the farm itself. Buy it on Amazon.