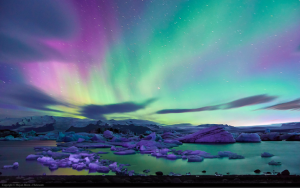 by Katy Kelleher
"Go West, young man" is an old adage, one that speaks to that particularly American dream of endless opportunity and infinite space. But I've never felt the pull to go west. No, when my mind is taken by daydreams and my wanderlust rears its unruly head, I don't hear the whispery summon of surf and sand. I hear the crash of icebergs, the muffled sound of snow falling, and the sweet crunch of ice underfoot. I hear the call of the north.
I'm not sure whether this comes from being raised in snowy (yet hardly magical) Massachusetts, though I doubt it. I think it was planted in my head by fiction authors, who have long regarded those great white expanses as a source of sublime awe and terror. In Edgar Allan Poe's only novel, The Narrative of Arthur Gordon Pym of Nantucket, the main character is driven south, far, far south, to where the world was believed to end in a rushing waterfall. At the end, he stares into the cataract. His companions have been overwhelmed by the whiteness that surrounds them, for all they can see is ocean, ashy snowfall, and mist. In is here that the narrative ends, with these haunting last words: "And now we rushed into the embraces of the cataract, where a chasm threw itself open to receive us. But there arose in our pathway a shrouded human figure, very far larger in its proportions than any dweller among men. And the hue of the skin of the figure was of the perfect whiteness of the snow."
Although Poe's protagonist traveled south, the idea that the arctic is a place of unknowable wonder holds true for the north, as well. To cite a very different example, in Phillip Pullman's young adult novel The Golden Compass, the feisty little liar Lyra goes north to Svalbard. I didn't learn this until years later, but Svalbard isn't a place of Pulman's imagination. It's a small, isolated cluster of islands in the Greenland Sea. In The Golden Compass, Svalbard is the home of the panserbjørne, a tribe of intelligent but bellicose polar bears who wear armor made from the metal of stars. Svalbard is also where author Michelle Paver chose to set her ghost story Dark Matter, a chilling tale of a haunted mining community in the 1930s. Another modern series, 30 Days of Night (which was made into a movie of the same name), tells of an isolated Alaskan community that is plagued by strange and bloodthirsty creatures. Even more recently, George R. R. Martin turned the northern reaches of his fantastical globe into a source of disturbing and deadly magic in his epic series of novels, A Song of Ice and Fire (perhaps you might know it by another name; on HBO, the series is titled Game of Thrones after the first book in the still-unfinished saga). In Martin's world, "north of the wall" means traveling beyond the boundaries of civilization, to a place where people aren't called citizens but wildlings and giant wolves roam. This is a place where the dead walk upright, and a blue-eyed breed of supernatural beings stalk the woods.
Although these popular works are a far cry from Poe's strange standalone novel, they have all worked to shape my idea of the arctic as a source of awe, a place of sublime wonder and breath-robbing fear. And yet, I still can't quite place it. What makes the arctic regions fit so perfectly into stories of ghosts and goblins, vampires and zombies? Perhaps there is something magic about snow itself, about the tiny crystalline snowflakes that swirl through the air. Or maybe it's the northern lights, that natural phenomenon that turns the sky into a swirling expanse of color. Perhaps there is something so deeply forbidding about vast quantities of ice that our minds can't quite place it as natural, and so we turn it instead into a frozen wellspring of fear. Or (and I suspect this is the truth) some deep part of me recognizes an image of the end in all that whiteness, like Poe did. Like Martin does.
Katy Kelleher is an editor at Literary Traveler. When she's not writing about travel or books, she's reading fantasy novels and dreaming of the great white north. She lives in Portland, Maine.