Here at Literary Traveler we're blessed with a truly amazing roster of writers. In our new column, Five Questions, we ask our contributors to share their travel experience with you. In this piece, you'll find book recommendations, foodie observations, and hopefully, a dose of inspiration for your wandering mind. 
Meet Ruth Setton, author of "In Search of the Goddess," a piece about her travels through Ireland and the history of female deities in this gorgeous green country.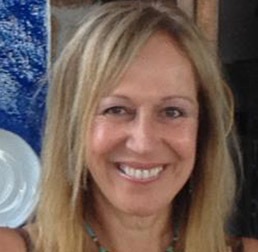 What has been your favorite place you've traveled and why?
Brazil. I entered Brazil through its music, long before I set foot there. Rio is gritty, dangerous, seductive, and haunting, but Salvador, the capital of Bahia, with its ceaseless drums pounding for candomble, samba, and capoeira—Salvador is magic. I just began to dive into its rich world, and there's so much I still want to explore.
What book are you reading right now (and would you recommend it)?
My Brilliant Friend by Elena Ferrante. This is the first novel in a trilogy set in Naples that follows the heartbreaking lives of two girls, both creative, ambitious, and starved for money and love, and the things they do in order to survive. Ferrante, a pseudonym for an Italian woman writer, brings to life the raw harshness of life in Naple's slums, and the burning brilliance of two female friends in luminous prose. I love Naples, and reading this novel makes me feel I'm walking down the tortuous cobbled streets, seeing the clothes hanging from balconies, hearing people shout to each other from doorways and windows, and breathing in food and life. Read it!
If you could get a round-trip ticket to any literary destination in the world, where would it be?
This is difficult! Can I choose two? First, Prague: the city where Kafka grew up and imagined his masterpieces, and also the city that was very important to Rilke, Jiri Weil, Milan Kundera, and Ivan Klima. I want to breathe that air!
Second, Nairobi: the farm that inspired Out of Africa—where the Baroness Karen Blixen aka Isak Dinesen lived in the 1920s and shot a lion, worked with the Masai, and learned to become a writer by weaving Scheherazade-like tales around her lover, the handsome, restless pilot, Denys Finch Hatton.
Can you describe the best meal you ever ate while traveling? What made it so good?
Pizza in Naples. Simple, cheap, amazing. I think it was the entire experience: walking in the dark on narrow streets with pointed stones past ruins and ancient buildings, graffiti and garbage, storefronts like works of art, the sense of danger, and then turning a corner and hearing music, seeing lights and a long line of people waiting, waiting, and the next door bar offering free wine and crackers and chocolates, and waiting and waiting, and finally being seated, and then the pizza, tearing off burning slices with your fingers and biting into heaven.
What is one piece of advice for aspiring world travelers?
Travel alone. At the very least, find some time to wander on your own, sit on a bench or at a cafe, and watch, listen and absorb the rhythm of the country.
Read Ruth's most recent article here.