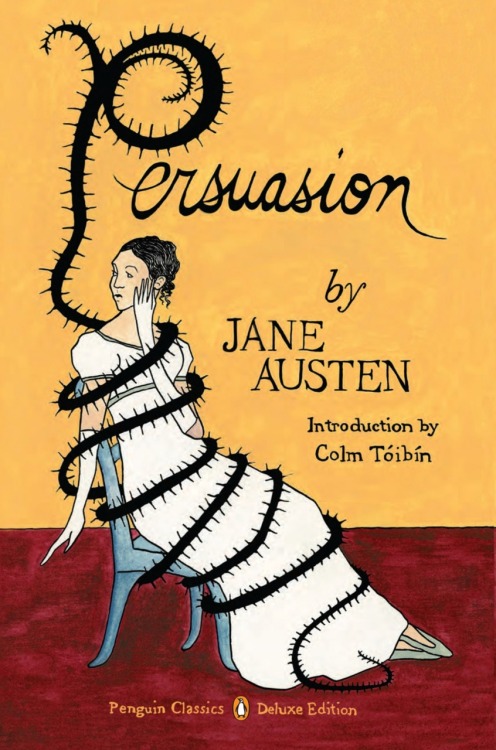 by Casey Hassenstein
Where has true passion gone? Today, passion and sex are compatriots being thoughtlessly splashed about in the pages of magazines and uploaded via racy photos from celebrities on the Internet. Sex sells – especially when it involves whips and chains and lacy, forbidden fantasies of the flesh.
I long for the days when passion was not overtly sexual, but linked to the truest virtue of all: love. When longing and hope were key elements woven together to overcome insurmountable obstacles and reach a fairy tale ending. Jane Austen in her final novel, Persuasion, reminds us that while times in nineteenth century England may have been more conservative when it came to feelings of the heart, they produced enduring, real stories of passion and, ultimately, love.
In Persuasion, Austen writes beautifully of a period when relations between men and women were far more complicated in many ways. Marriages were business agreements, predetermined based on wealth and social class. The road to the altar was often crooked, paved with yearning and, occasionally, regret. In the novel, the central character, Anne Elliot, alludes to this when she explains to her true love, Captain Wentworth, why she ended their engagement over eight and a half years before saying, "If I was wrong in yielding to persuasion once, remember that it was to persuasion exerted on the side of safety, not of risk. I thought it was to duty; but no duty could be called in aid here."
Taking the safe path for family, society and duty was common during then. Difficult choices were made by the mind, but seldom moved on easily from by the heart. Flames of passion were not quickly or quietly extinguished and regularly conveyed only through slight glances and reddened cheeks. Upon seeing Anne, Austen writes, "He [Captain Wentworth] was more obviously struck and confused the sight of her, than she had ever observed before, he looked quite red. For the first time since their renewed acquaintance, she felt that she was betraying the least sensibility of the two." A simple color, the color of love, suggests his feelings inside—enough to give Anne hope for a reconciliation; a possible closure on a past of heartache and an opening to a life together.
While Austen's writing was void of sex, it was not void of sexual innuendo. A fine line was always drawn between agony and ecstasy, heartbreak and joy when Anne and Captain Wentworth were around each other. Passion was a drug in the purest sense; making those in its wake feel alive, while showing their human frailties. It allowed people to move on and, occasionally, overcome their pride and go back and rewrite potential wrongs. Anne's feelings towards her love were, "All overpowering, blinding, bewildering, first effects of strong surprise were over with her. Still, however, he had enough to feel! It was agitation, pain, pleasure, a something between delight and misery." Is this what sexual pleasure is not all about? The crescendo of emotions becomes larger, greater than any act of sex could possibly be.
In the end, the passion that Anne and Captain Wentworth had between them and the love which was rooted in it led to their happy ending. They did not give in to their primal urges. They did not go for a quick fix, as so many today would have done. Their love story was lengthy and full of conflict wrapped around raw emotions of lust and desire. Perhaps we all need to go back to this time period ourselves and take a page today from their book.