Call 1.844.378.2869 for more information and mention Literary Traveler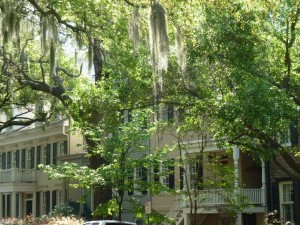 ITINERARY To read Flannery O'Connor's fiction is to be amused, provoked, and pushed to reconsider our place in the world. A Roman Catholic and a native of Georgia, O'Connor created stories that inimitably blend humour, horror, and the mysteries of faith. While her writing is richly specific, evoking the haunting landscapes and quirky characters of the American South, it deals powerfully with universal questions: What does it mean to be good? How should we live? What is the meaning of death? How can the divine penetrate the everyday world? In her short lifetime (1925–1964), O'Connor created a powerful body of work, including two novels and a number of short stories and nonfiction pieces.
Our base will be Savannah, O'Connor's birthplace. Here we'll visit her childhood home and explore this beautiful antebellum city's striking architecture, most of which was saved at the eleventh hour by a determined group of local citizens. There will be time to enjoy the otherworldly Avenue of the Oaks and Bonaventure Cemetery, a Southern Gothic sculptural garden. And of course we'll savour delicious Lowcountry seafood and the different styles of Georgia barbecue.
We'll also travel though an area of lush forests and wetlands on a day excursion to Andalusia, the O'Connor family farm where Flannery spent the last 13 years of her life and wrote many of her works. The newly restored property offers a unique glimpse into O'Connor's life, writing process, and influence.
Join Classical Pursuits on a journey to one of North America's most beguiling cities, and into the mind and heart of a writer of uncommon imagination.
For more information, see our detailed itinerary, available soon. All Travel Pursuits operate under the umbrella of our partner, Worldwide Quest (TICO Reg: #2667946). Worldwide Quest arranges the logistics for each trip to complement our literary theme. They handle all bookings/registration and are happy to book flights and help with pre- and post-trip arrangements.
DESTINATION
Savannah, Georgia
DATES
April 7–11, 2019
READINGS
Selected short stories by Flannery O'Connor
LEADER
Melanie Blake is the director of Classical Pursuits. is the director of Classical Pursuits. She has led past tours on WWI poetry on the Western Front, modern Mexican and Colombian literature, and The Name of the Rose in central Italy. She believes Flannery O'Connor's dark wit and theological sophistication make her works ones to return to again and again.
ACCOMMODATION
The Marshall House
COST
Approx. US$2,195
Cost includes guides, readings, accommodation, two meals a day, discussions, ground transportation, walking tours, talks, excursions, admissions, and taxes and gratuities.
NOTE FROM LITERARY TRAVELER EDITORS: We have traveled on this trip with Classical Pursuits trip. Melanie is fabulous and you will have an amazing experience. 
Call 1.844.378.2869 for more information and mention Literary Traveler