By Jessica Monk
"I think that as women we've got the same messages since little girls. If you think of red riding hood, it's don't go into the woods."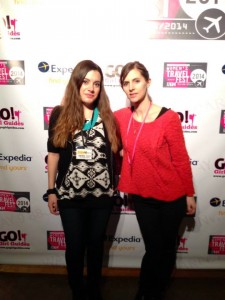 Whether you love or hate the preparation part of travel, something about the combination of nerves, butterflies and blind spots is an integral part of taking the plunge. But fear of the unknown can only help you insofar as it needles you into being an informed traveler. Nerves may be necessary to keep you on your toes, but unfortunately for many women they become an obstacle to travel.
The Go-Girl travel guides for women aren't there to heap an extra sense of duty onto women, but rather to acknowledge that being a woman traveler is a sport with its own rules. After you've done your research and packed your toothbrush, the experience should be yours to savor.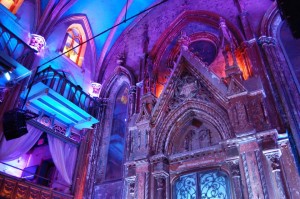 LT's Amanda and I made our way down to Go-Girl's Women's Travel Fest at the Angel Oresanz Foundation for the Arts in Manhattan, a fantastical Gaudi-esque renovated synagogue and a place to fire up the imagination. The many unplanned detours we took through the labyrinth of the subway system and streets were a testament to how much planning anyone can do, even for a short trip. Sometimes you just have to get lost and enjoy the journey.
If there was any takeaway worth preserving as a magic talisman to hang over the proceedings, it was the stunning, clear-eyed testimony of Sarah Shourd, a woman traveler who experienced imprisonment and solitary confinement in Iran. Sarah is also a rape survivor and her message for the audience was inspiring, but not naïve:
"I think that as women we've got the same messages since little girls. If you think of red riding hood it's don't go into the woods."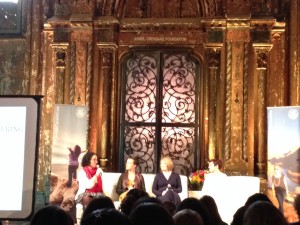 Of course, it is good to be prepared for the experience of traveling as a woman. It is, unfortunately, still an experience that is different from traveling as a man. But the decision to use fear as a motivator rather than something that confines you, as Sarah says she does, is what makes it a worthwhile challenge.
Mariellen Ward of breathdreamgo quoted statistics, showing that women are safer on the road than at home in possibly violent domestic situations. Even Sally Thelen of the blog Unbrave Girl, representing the contingent of "scaredy cat" travelers, said she felt less afraid of indulging her wanderlust than going to work at the University of Michigan amid reports of school shootings: "Everybody tells me not to travel places because it's not safe. Nobody tells me not to go to work."
Safety and Getting the Most Out of Your Travel Experience

1. A subtle piece of advice from Mariellen Ward, a travel writer who created the popular #wegosolo hashtag, was not to write off dangerous places entirely, but to practice safe travel. For example, dress like a local, not to isolate yourself but to enmesh yourself in a community that will protect you. This sense of community, often missing in American cities is overlooked when US travelers typecast certain destinations as dangerous and lawless. Isolating yourself in your hotel is often worse than making sure you have a network of local friends to call on.
2. Making friends with other women and having a female travel inspiration is important to keep morale up and to understand the terrain from an insider's perspective. Sarah Shourd says that her travel inspiration was her concert pianist grandmother. In Yemen, a socially restrictive place for women, she formed female friendships that were deep and longlasting.
3. You'd think that a professional traveler like Samantha Brown would gravitate to blockbuster destinations, but her refreshing talk pointed travelers in the direction of humbler spots. Her motto is to "never go down the same road twice." She is a fan of eating at ethnic restaurants in strip-malls, where she claims she often finds the most authentic experiences of a culture.
4. If you want to deepen your travel experience and use it as an opportunity to connect with locals, there are sites that will help you do that. Sites like Homestay make accommodation more informal, matching you with local hosts. Then there are the intermediaries that ensure your guided tour is a tailored, local experience – sites like Vayable, Tripzaar, and Tours by Locals.
Travel Options and Taking Notes on the Road
5. Back to the preparation part: a good deal is obviously a headstart for any traveler. Jacqui Gifford of Travel and Leisure and Courtney Scott of Travelocity had plenty of practical tips about going after the deal you want. They advised to sign up for every loyalty program around and use social media to hunt down deals. Some fertile hunting grounds include Hotel Tonight, an app for social media deals, the hashtag #traveldeals, and signing up for TripTwit, a daily e-mail round-up of that day's Twitter airfare deals. It's also worth keeping an eye out for new airfare deals on Mondays and Tuesdays when they are usually first offered.
6. Another factor is flexibility and cost. Courtney recommends budgeting apps, and American Airlines has a "Choice Essential" option which gives you the freedom to change your departure date. Like a lot of flexifares though, it has an extra cost involved. If you're not hung up on being flexible, cruises may be a more structured way of encountering the world, but they can be a great way to travel as a group and meet people.
7. Most travelers expect to be a tourist in their environment, but at a show hosted by professional travelers and bloggers of all stripes, it was interesting to learn how a trip can become a work or writing opportunity too. Carol Cain of Girl Gone Travel and Beth Whitman of Wanderlust and Lipstick were travelers who viewed their trips as investments in a writing career. An investment of course is a matter of funding, so if like Christine Maxfield, you're prepared to quit your armchair job as a travel writer and take any job from shaman's assistant to working with a non-profit, there are work-exchange organizations that can make your trip a reality. We jotted down Christine's helpful list of work/travels organizations: WWOOF, Workaway.info, Helpx.net, Grassroots Volunteering, Barefoot Atlas and Omprakash.
8. Choosing what kind of traveler you want to be can also be a matter of deciding to travel ethically. Adrienne Lee was there to speak about Planeterra, a division of G-Adventures, which works to support a firmer commitment to responsible travel, such as supporting Unions that work for Porter's rights in Kilimanjaro.
The Women's Travel Fest was about travel and the women who are doing it – not a master-class in how to behave as a woman on the road (we get enough of that at home as it is). It's a no-brainer that planning and preparation are the keys to any trip. So, if you are going to ignore the messages of childhood and go down to the woods anyway, do bring a little handkerchief with your belongings in it, do try to protect yourself, but make sure, in the end, you follow your own path. Life is too short and there are too many journeys worth taking.
For more inspirational tips from the Women's Travel Fest, read Amanda's account of Samantha Brown's lively talk and how it's possible to head off-the-beaten path, even with a camera crew in tow.