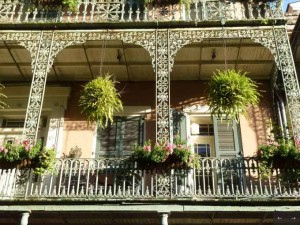 Destination: 
New Orleans, Louisiana
Dates:
October 7 – 14, 2014 (7 nights)
For more information on this trip please contact Literary Traveler.
1-855-LIT-TRVL
Readings:
A Streetcar Named Desire by Tennessee Williams
"Desiree's Baby" by Kate Chopin
A Lesson Before Dying by Ernest Gaines
"Loot" by Julie Smith
Accommodations: 
Hotel Monteleone
Description/Itinerary:
Classical Pursuits goes to New Orleans, focusing on the literature of this unique city. We will wade into romantic, and utterly unique New Orleans, probing what accounts for the city's famous joie de vivre, despite – or perhaps because of – the surreal challenges the city has constantly, triumphantly, overcome.
Our literature will be Tennessee Williams' A Streetcar Named Desire, Kate Chopin's "Desiree's Baby," Ernest Gaines' A Lesson Before Dying, and Julie Smith's "Loot" – giving us a range of time periods and fascinating personal windows into the complex history of New Orleans.
Together with writer Lisa Pasold, private local guides, and local literary figures, we will explore the deep connection each writer has felt with the city. We'll consider the often-murky layers of truth and history in this bewitching place. Why do writers here tend towards describing the darker aspects of this lovely city? What does New Orleans demand of its citizens? How are the writers themselves shaped by the city? Lisa, who loves her adopted city, will help us see through a writer's eyes, to understand what continues to intrigue and inspire the writers of New Orleans.
No trip to New Orleans would be complete without exploring the birth of jazz, the truth about voodoo, and the history of the city's elaborate Mardi Gras.  Because New Orleans is a city devoted to the senses, we will thrill to the sounds of omnipresent jazz and zydeco, feast our eyes on the rich architecture of the city, delight our taste buds with Cajun cuisine and pecan pralines, and inhale the sweet perfume of tropical flowers tumbling from French Quarter balconies.
Our trip will include a visit to an authentic Creole plantation to learn about the intricate social relations among the French-descended Acadians, Spanish settlers, Africans, and Natives. We will also take a trip into the bayous to experience the heart of French culture in Louisiana.
This Classical Pursuits trip will focus on the vital contributions that New Orleans has given the world. From literature to music to food, so much of the American identity has been flavoured by this inspiring city hovering between swamp and sea level. Do join us for this celebration of the city of New Orleans.
Leaders:
Lisa Pasold is a Canadian writer who divides her time between Paris and New Orleans. She is currently the host of Discovery's travel show, Paris Next Stop. She has published a novel and three books of poetry. Her most recent book, Any Bright Horse, was nominated for the 2012 Governor General's Literary Award for Poetry. Lisa is especially interested in leading this trip because – long before she moved here – she fell in love with the city through the words of its writers.
Fees:
US $3,295 based on double occupancy (approximate)
Fee includes readings, accommodation, two meals a day, discussions, ground transportation, walking tours, talks, excursions, and admissions.