By Amanda Festa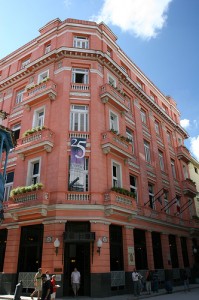 Since January of 2011, when restrictions on traveling to Cuba were loosened, eager travelers have been flocking to the country for one of the many cultural tours now being offered, including one featured by Literary Traveler through The National Trust for Historical Preservation.
While Cuba has much to offer culturally and historically, literary travelers cannot help but associate the country with Ernest Hemingway, whose fondness for the island is evident in both his life and work. The prolific author first discovered Cuba in 1928 on a layover while traveling to Spain, another favorite destination.  Soon after, in 1932, Hemingway returned with friends from Key West for a fishing trip.  He began spending more and more time in Havana, consistently taking up residence at one hotel: Hotel Ambos Mundos.
The hotel, originally constructed in 1924, became Papa Hemingway's home for seven years, from 1932-1939, and is now synonymous with its most famous lodger.  The charming restored hotel is still open and located close to the Plaza de Armas in Old Town, a popular destination for tourists and locals alike. Hemingway's original quarters were located on the fifth floor and it was in this room that Hemingway began writing For Whom the Bell Tolls in 1939.
Room 511 became Hemingway's regular haunt, a favorite because of it views of both Old Havana, as well as the harbor where he often fished.  While travelers cannot book a stay in Hemingway's room, it is open to the public as a museum.  The room is set up as it would have looked during Hemingway's stay and contains his glasses, writing table, typewriter and other memorabilia.  Papa's presence can also be felt in the lobby, where walls of photographs of the author relay his connection to the establishment.
When planning your first trip to Cuba, take a page from Hemingway and lodge at Hotel Ambos Mundos.  If an overnight stay is not in the cards, then take a tour of Hemingway's room.  Stop by and check out the place where Hemingway began penning one of his most famous novels and stay for a mojito at the quaint rooftop bar, which offers beautiful panoramic views of the city.  Another must-see is the first floor piano bar, which becomes quite popular at night.
Upon exploring the hotel, it becomes clear that its history is not limited solely to room 511.  The five story property still utilizes the 1930s elevator, which while slow, is quite charming.  While the rooms are small and simply decorated, they are clean, comfortable, and provide vivid historical allure.
Hemingway finally checked out of Hotel Ambos Mundos in 1939, when he purchased a more permanent Cuban residence at Finca Vigia.  While in Cuba, make sure to continue your pursuit of all things Hemingway with a trip to Finca Viglia and a daiquiri at the Floridita, Hemingway's favorite Cuban watering hole.  The long-standing restaurant and bar, a stones throw from Hotel Ambos Mundos, honors the writer with a statue and a potent daiquiri, the 'Papa Doble'–no sugar, double rum.