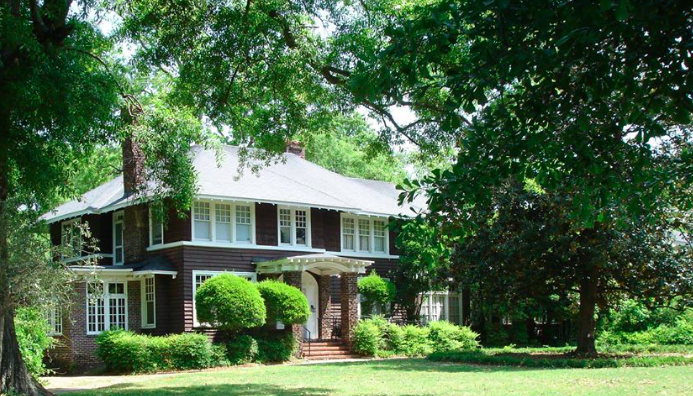 When we imagine F. Scott Fitzgerald and his wife Zelda, we tend to think of them in some New York ballroom, sipping champagne and dancing dizzily. You might not expect to find The F. Scott and Zelda Fitzgerald Museum in an old historic neighborhood in the Deep South. But despite its unlikely location, this stately museum is a must-visit for fans of the Jazz Age icons.
The museum occupies the first floor of the meticulously preserved home. It's a small space, but even the neighborhood is a sight to see. Behind the brick entryway, the museum houses include over 300 Fitzgerald artifacts, among them photographs, manuscripts, typewriters, and letters. It also includes Zelda's artwork, and the museum's founders are committed to preserving her memory and history along with her more famous husband.
The family's ties to the location are easy to trace; Zelda, Scott, and their daughter Scottie lived in the Montgomery home as renters for 1931 and 1932. The family relocated to the South after an extended tour in Europe that was cut short by the first of Zelda's breakdowns. The neighborhood, known as Old Cloverdale, was close to Zelda parents. Zelda spent a fair amount of that time alone with their daughter Scottie, as F.S. was away, writing in Hollywood.
It was in this home that Zelda outlined her book about a marriage in turmoil, Save Me the Waltz, as Scott was writing his own novel about a destructive marriage, Tender Is The Night. Despite both writers crafting fiction out of their own lives, their passion for each other remained strong. In a letter from Montgomery to Hollywood in December, 1931, from Zelda writes, "The house is so pleasant and I have everything in the world except you."
Location: Montgomery, AL
Price: Adults $8, Seniors 65 $6, Students $5, Age 5 and under free
Highlights: The enthusiastic docents and staff are happy to share what they know, and have been known to extend hours to accommodate student and visitors from out of town. The site is part of the Southern literary trail, and hosts many events including an annual Jazz Age Gala, a "Mad Poets" poetry contest, and a Christmas open house.
Further reading:
Official Website of the F. Scott and Zelda Fitzgerald Museum
The Summer of Gatsby
Zelda Fitzgerald: The Roaring 20's Icon
Hotel du Cap: Literary Luxury on the French Riviera