A hundred miles on the Camino de Santiago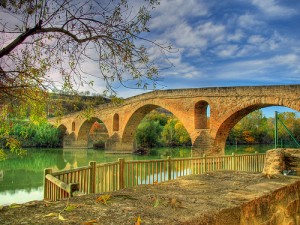 Destination
Spain – from Leon to Santiago de Compostela
Dates
October 15 – 26, 2012 (11 nights)
Readings
We will explore the theme of pilgrimage in selected short works of a variety of major writers, including Shakespeare, Conrad, Dickinson, T. S. Eliot, Yeats, and Heaney.
Description/Itinerary
The crown jewel of Spanish walking trails, the pilgrimage to Santiago de Compostela began as an act of faith as Europeans crossed Spain to visit the sacred tomb of Saint James. One thousand years later, the Camino continues to draw the spiritual seeker as well as the traveler looking to enjoy the beauty of the green rolling hills and small hamlets of northwestern Spain's Galicia. The biggest problem when considering the Camino to Santiago is the amount of time required to walk the whole way in one go – four to six weeks. Classical Pursuits offers a Camino experience better suited to many people's holiday time and comfort requirements.
There are thousands of long-distance pathways we can walk but only the Camino has achieved world recognition for its historical and spiritual significance. Although numbers have increased tenfold during the past ten years, this is still fewer than half the number of pilgrims who walked the Camino each year in medieval times.
Pilgrimage is an idea whose time has come around again. In the frequent mindless madness of our daily lives, dedication to a path of simplicity, beauty, history, and kindness opens a space for profound personal transformation. Perhaps now is your time.
Accommodation
3 & 4 star hotels and historic country manors
Quote
"We are speeding up our lives and working harder, in a futile attempt to slow down and enjoy it." – Paul Hawken, environmentalist, entrepreneur and author
Leader
Classical Pursuits founder Ann Kirkland walked the Camino by herself in 2010 and is eager to share the experience with others. She will be joined by a bi-lingual Camino veteran from Spain.
Fees
CAN$5695 / US $5513 / UK €3995 (based on double occupancy)
Fee includes readings, accommodation in 3 & 4 star country manors and hotels, all meals including wine with dinner, all ground transportation in private coach, bi-lingual walking guide to accompany the group, support vehicle to provide assistance along the Camino, all luggage transfers, guided tour of the Catherdral in Santiago by a local art historian, and a visit and tasting at an Albariño winery in Galicia.